Watch Video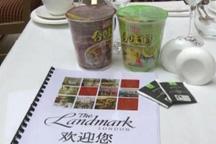 Play Video
While Chinese classrooms are pulling in interested foreign learners, some countries are attempting the same for Chinese tourists. Hotels, retailers and the government in the UK are stepping up efforts to woo big-spending Chinese visitors, in a bid to bounce back from the country's longest recession in half a century.
Steamed buns and hot soya milk - the perfect way to start the day at this hotel in central London. A Chinese breakfast is one of the ways the Landmark Hotel is trying to attract London's many tourists from Shanghai and Beijing.
Yan-Ping Mew, sales & Marketing manager of The Landmark Hotel, said, "We know the Chinese tend to be slightly more superstitious, and certain things should be avoided. So for instance we will avoid allocating them rooms on the 4th floor or any rooms that have the number 4, because "4" in Chinese has a similar tone to the word death."
Chinese tourism in the UK is booming. Between 2010 and 2011 the number of visitors rose 20 per cent. With the British economy having recently emerged from a double dip recession, the 300 million or so euros spent by Chinese tourists in Britain last year is most welcome.
Patricia Yates, director of Strategy of Visit Britain Tourist Board, said, "When they come to Britain, my goodness they spend. The average Chinese visitor spends about three times as much -- £1,600 -- as the average visitor to Britain. But we know that our European rivals do much better than us and we really want to break the Chinese market."
A million tourists from China flocked to Europe last year - but just 150,000 of them visited Britain's shores. This may be because a visa for the UK costs a visitor from China almost double that of a Schengen Visa which gives access to 26 European countries. And European paperwork is relatively simple. But London's big retailers are doing their best at wooing the Chinese, with sales assistants who speak Mandarin, and new payment systems specifically designed to accept Chinese credit and debit cards.
Selfridges spokesperson Sophie Hedley said, "The Chinese clientele have a really and particularly for brands and , but also for the fine watches and jewelry that we see here."
Visit Britain are pushing for easier tourist access for the Chinese and a relaxing of Visa rules. The UK tourist board has set itself an ambitious goal - to attract 380 thousand Chinese tourists a year by 2020.
Editor:Zhang Rui |Source: CCTV.com