Watch Video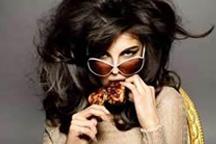 Play Video
Another message that's being sent down the catwalk this season focuses on promoting positive body images. Lawmakers in Israel are looking to ban companies from editing fashion photos to make the models look thinner.
Twenty-one year old Margaux Stelman is a student, and now, a model? Just like her sister once was. She died of anorexia here in Israel two years ago, trying to be ultra-thin in front of the camera. That didn't stop Margaux from following in her sister's career footsteps.
Stelman said, "It's very personal, and it's kind of a personal revenge, I would say, against this terrible disease."
Unlike her sister, Margaux and her fellow models aren't afraid to eat, even hamburgers. That's largely thanks to their agent, Adi Barkan.
Barkan said, "If these models - and the models from the rest of the industry - did the same thing and worried about their bodies, there'll no longer be little four of five year-old girls who'll stand in front of the mirror and say 'I'm fat' when they are this skinny."
Barkan became a reformed man after a starved-model died right in front of him. He began pushing for a new law regulating eating disorders in his industry - and specifically targeting the culture that promotes them.
The law went into effect this month, and now models must produce medical records showing consistent health body weight or risk fine. They could be banned from shoots and runways altogether. And, they and the agencies that use them could be sued for damages by the general public. But there's more.
Reporter: "According to industry experts, it would appear that many of the models in this magazine have actually dropped down two sizes over the last several years. That's thanks to digital enhancement. But with this new law, that sort of manipulation will now require the new ads to featuring a warning on at least 7% of the image."
One in ten young Israelis suffers from the eating disorders, anorexia or bulimia, and the number is quickly growing. (UPSOT: "There is a clear connection.") Dr. Eitan Gur is a psychiatrist who treats anorexic patients and says: it's a good first step, but not enough.
Gur said, "What the government has to do is invest much more money in treatment, in prevention, open beds in hospitals, open-up clinics around the country, and that costs money."
Critics say the law will be tough to enforce. But advocates believe that given time, society will change with healthier-looking models paving the way.
Stelman said, "She never liked this disease. She wanted to get rid of it. She wanted to be normal. I wish she was here, if she could see me. I'm sure she's very proud of what I'm doing now."
Editor:Zhang Rui |Source: CCTV.com