Watch Video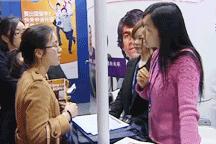 Play Video
As more and more overseas universities are paying more attention to the ever expanding Chinese education market, a growing number of foreign students are considering to continue their studies in China.
200 universities from 19 countries and regions are participating in the fair in Shanghai. Those from English speaking countries like the US, Australia, Britain and Canada still dominate the fair and often appear in national delegations.
Bai Zhangde, Director, Chinese Service Center for Scholarly Exchange, said, "There are many national delegations at the fair. It shows that the Chinese education market especially Shanghai, is of great importance to foreign colleges."
Many universities that have never appeared in China showed up at the booths of U.S., and offered quite easy access. For example, Miami University in Middletown only demands a score of 65 on the TOEFL exam. Those who do not hold IELTS OR TOEFL certificates, can complete an eleven-week language course in China and be admitted if passing the test held by the university.
Besides easier access provided by universities, many American high schools are also attracting those families preparing to send their kids abroad.
While Chinese students are going overseas to study, their foreign counterparts are going in the other direction. 16-year-old Barbala Luiz from Brazil is one of them.
Barbala Luiz, Brazilian Student, said, "I want to study fashion design in China. This fridge magnet is handmade by a student. It provides me with inspiration."
Interesting courses as well as reasonable tuition fees make Chinese universities attractive to students in Brazil. Francisco David studies architecture design in Brazil and says he will come to China after graduation.
Francisco David, Brazilian Student, said, "Among all the universities I have consulted today, Chinese ones have the most reasonable fees. It is good news for me. I believe it will be a whole new different experience to study there."
This is also the first time that 15 Chinese universities in Beijing have held a fair and talk in Brazil.
Editor:Yang Jie |Source: CCTV.com