Watch Video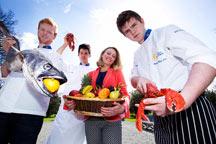 Play Video
By CCTV Correspondent Lourda Sexton
The Irish capital is hosting the 8th Taste of Dublin event until June 16th. Held over 4 days, restaurants across the city are dishing up their favourites. Attendees not only get to sample a wide range of food, they also get to meet the chefs in person.
Dublin's Iveagh gardens has transformed into a food haven - for a few days. With 20 of Dublin's top restaurants serving up their best dishes to the Irish crowds.
Allowing visiting crowds an opportunity to sample a range of dishes from different restaurants. And meet first hand with the chefs behind the food.
Lourda Sexton said, "This event is a great way for Irish consumers to taste the different cuising offered across the city over three days. "
Rachel Kelly, event director of Taste of Dublin,said, "I think that Irish food from our chefs to our producers to our gastronomical culture has really improved. I think we have some work to do to showcase that. But I think that Irish produce is really really premium produce."
Over 100 exhibitors are using the event to showcase their produce. Chefs attending find the event a great way to see what's happening in Ireland's food scene.
Catherine Fulvio, Chef & Proprietor, said, "It's a wonderful chance for me a as a chef to go around and taste all the foods. There is not just all the restaurants here from around Dublin but there is also all the food producers. You get to learn about their passion and sample little bits from every place. "
For the 1st time, the European commission is at the event to promote tracability of food. This comes after Europe suffered its worst horse meat scandal in years earlier this year.
Graeme Taylor, European Commission, said, "I think the horse meat scandal is certainly something that made people question a lot where the food they eat comes from. And rightly so. But what we want to do is show people that they can be confident that there is systems in place that guarantees the safety of the food and they can eat happily, eat their beef happily, eat their pork happily in the knowledge that it has been checked by a comprehensive sysetm that we use at an EU level."
The event is expected to host up to 30,000 people keen to sample Dublin's top restaurants.
Editor:Wang Xiaomei |Source: CCTV.com