Watch Video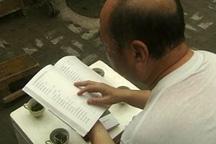 Play Video
In the capital, the local dialect is in danger of dying out. The Beijing dialect has 400 years of history, dating back to the Qing Dynasty, but as fewer and fewer people speak it accurately these days, native Beijingers are taking action to keep it alive.
66-year-old Gao Guosen is an authentic "Lao Beijing", or old Beijinger. He has lived in a Beijing hutong all his life.
The retiree now has a new "job" - recording for a program initiated by the Beijing Linguistics Committee. Since last year, the program has been working to preserve the Beijing dialect, which it fears is dying out. Every month, Gao Guosen goes to the database to record phrases, and he takes the job very seriously.
"The Beijing dialect is unique for its pronunciation, intonation, and heavy use of rhotic vowels. A rhotic vowel is the distinctive 'er' added to the end of many words, which to some people sounds like speaking with a mouthful of marbles," Gao said.
Gao says there used to be 14 native families living in this hutong, but now there are only two left. There are not many who speak a pure "old Beijing" dialect any more.
Gao has had to visit old Beijingers scattered around the capital to get advice. "There are some phrases I'm not sure how to say, so I have to do research, because what I record is going to be a reference for the future generations. It cannot be wrong," he said.
Beijing, the nation's capital, attracts people from all over the world. The language and dialect of the city, closely tied to social developments, will no doubt see changes with the passing of time. As the city becomes more international, it's up to the residents to keep tradition alive.
Related stories
Editor:Zhou Minxi |Source: CCTV.com