Watch Video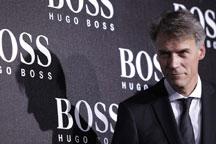 Play Video
Over to London now, where a unique pop-up exhibition is offering visitors the chance to get up close and personal with modern art. It's called "Red Never Follows", and it's interactive art installations are hard to leave alone.
Playing with art in a shower of electronic shadows.
This interactive work is part of an exhibition at London's Saatchi Gallery, and promises visitors a truly hands-on experience with modern art.
Named "Red Never Follows", the exhibit features works by artists from around the world, and is being staged to celebrate 20 years of the fashion brand Hugo Boss.
This piece, called "Proximity/Repulsion", was made by Felix Bonowski, a German artist who is also an expert in molecular biotechnology.
"One of the main ideas was to offer these different haptic (tactile technology) feedbacks to people who are touching something that's not material." Felix Bonowski, Artist said.
Two other artists, Italians Marco Barotti and Marco Canevacci, decided to create an installation you can truly explore - by literally climbing inside the artwork.
Named "The Pulse of London", the piece uses an ear clip that senses and amplifies the heartbeat, digitizes it, and plays it back in an immersive soundscape through the sphere's many speakers.
"The Pulse of London is a very intimate installation, people come inside by themselves, they sit, and they start to listen to their own heartbeat." Marco Canevacci, Artist said.
German artist Elisa Strozyk's interactive design is an innovative piece which blends both cloth and wood. The quilt-like piece is intended to explore the value of our sense of touch, as well as the way we think about traditional building materials.
"So normally we know a wooden surface as a tabletop, a door, or something quite heavy and hard but I found a technique to divide the wood into smaller pieces and then attach it to a flexible base. So the outcome is something like a hybrid between these two materials." Elisa Strozyk, Artist said.
This piece aims to measure the user's brain activity, then reflect it back through a moving architectural design. Here a gravity defying robot is etching a bright red spider web design on the gallery wall, armed only with a red crayon. This design from Germany allows the user to create a design on screen, by interacting with a camera mounted on top.
The variety and originality of the designs are exactly what the exhibit's organisers were hoping for: different ideas and different minds, all in the spirit of fashion brand Hugo Boss.
Editor:Zhang Pengfei |Source: CCTV.com