Watch Video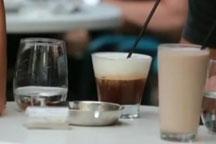 Play Video
By CCTV correspondent Filio Kontrafouri
Well, whether it's first thing in the morning or taking a break from work,drinking coffee is a habit many Greeks have no intention of giving up-- even during economic hard times. Greece remains one of the top 20 countries in coffee consumption worldwide.
Behind each sip, lies a way of communication, a way of life, Greeks don't give up. Drinking coffee is more than a habit for Greeks. It is a ritual and the coffee industry behind it remains a multi-million euro business that adapts to the country's economic crisis. Coffee-making evolves in to fine art and targets even the most hard-to-please.
"All of us have surely experienced the crisis. But prices are the same everywhere, what makes a difference is quality, value for money as we say. In the past, if I didn't like the coffee I'd say 'I don't like it. I'll go to the caf next door.' Now we don't have this luxury. So we are trying to find a good product." Café owner Nikos Bourbakis said.
That's why international coffee chains have been unable to crack the local market. Many say they cannot compete on value for money or master the Greek art of coffee-making. Greeks spend an average of 40 to 60 minutes to drink their coffee -the most time in Europe. The Mediterranean lifestyle and weather allow them to enjoy, sometimes for hours, a large frappe or freddo -types of iced coffee, both loved and invented by the Greeks.
"It is a matter of habit, of culture. It has to do with talking with friends and company. I don't say I'll go out to drink coffee by myself. I want to talk with a friend and instead of talking alone at home we go out and talk at a cafe."
But the economic meltdown deprives some Greeks even of simple pleasures like that. So the international movement of "caf sospesso" or "suspended coffee," born in Italy during its own difficult economic times in the early 20th century, is now revived in cafes around Athens. A customer pays in advance for a stranger in need --poor, homeless or unemployed, who cannot afford his own cup of coffee.
"We are in Greece and we drink a lot of coffee and it is extremely bad for someone not to be able to buy a cup of coffee. So this is some help." Café employee Katerina Siozoy said.
Reporter: "Drinking coffee in a cafe doesn't exactly come cheap. Depending on the neighborhood, it costs between 3 to 5 euros. It may not sound like a lot but this is a country where one in four is unemployed and salaries and pensions continue to go down."
So will the growing economic crisis be able to one day curb the insatiable appetite of Greeks for their favorite past-time. According to many, the answer is pretty straightforward.
"No, no. Greeks wouldn't eat but they would drink coffee."
Maybe because, as they explain, coffee is like a modern magic liquid. It can offer a moment of carefree joy at a time when Greeks need it the most.
Related stories
Editor:Zhang Rui |Source: CCTV.com