Watch Video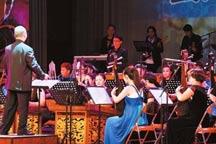 Play Video
And we continue now with our coverage of the 13th Asia Arts Festival in Kunming. The cultural event has seen a series of rousing performances and exchanges between Asian countries. As the event nears its conclusion, a special folk music extravaganza was held on Friday, and we were there.
The concert presents a variety of Asian folk music.
This troupe from Yunnan takes the audience on a musical journey through classic tunes from ten Asian nations.
After interpreting classic songs, Kim Songmi, a singer from the DPRK, also treats the audience to the Chinese folk song "Roads to Heaven".
Apart from performing together on stage, artists from China and other parts of Asia have also been able to visit local schools and communities to interact with art lovers.
Phoeung Sakuna, Minister of Culture & Fine Arts, Cambodia, said, "China's art and cultural industry is growing fast, especially in Yunnan, which has so many ethnic cultures. I hope we will have more cultural exchanges like this festival, as well as mutual development."
For locals, the festival offers a rare chance to get up close with top Asian artists.
Huang Jun, Director of Dept. of Culture, Yunnan Province, said, "Culture has always been a crucial link to the ties between different countries. And the Asia Arts Festival offers a platform for different cultures to shine. It also helps to introduce our artists to the world."
The Asia Arts festival was first initiated in 1998, aiming to strengthen ties and facilitate the development of cultural industries in Asian countries.
This year's festival has seen artists from 13 countries put on stunning performances in Kunming, the scenic capital of southwest China's Yunnan province.
Editor:Zheng Limin |Source: CCTV.com