Watch Video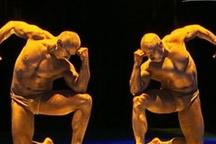 Play Video
And more fun now from the China International Circus Festival. The first round of performances have concluded since the festival kicked off on Wednesday.
It's more than just showing off muscles. This performance by Hungarian duo Golden Power demonstrates the perfect combination of strength and grace. The two have worked as partners for 14 years and have been preparing for the circus festival for three months. The breathtaking moves call for great skill and, more importantly, mutual trust.
Golden Power, Acrobats, said, "We have had injuries in practice, but just a couple of times. Because we are holding on to each other, if one gets injured, the other can offer protection."
As the Chinese saying goes, one minute on the stage, ten years behind the scenes.
Golden Power brings to mind a similar performance called "Ice and Fire" at the 2013 CCTV Spring Festival Gala, when the partners were a man and a woman. However, Golden Power is made up of two strong and much heavier men, making it much more demanding.
Bian Faji, President of China Acrobatics Association, said, "The performance requires a lot of strength. Every time they rise and fall, it is smooth and steady. The beauty of the show is haunting. It's really world class level."
The festival in Zhuhai will feature a total of 30 performances, until it closes on December 1st.
Editor:Zheng Limin |Source: CCTV.com