Watch Video
Play Video
In UK many people's inability to speak "important" foreign languages is considered an issue that could jeopardise the country's future prosperity. A recent survey found that three quarters of British adults are unable to hold a conversation in emerging languages such as Arabic, Mandarin and Japanese. Luckily people from all walks of life are teaming up to change that.
It's becoming an unfamiliar sight. In a Mandarin class at St. George's School for Girls in Edinburgh, students are taking the time to learn a language considered to be vital to the UK's prosperity over the next 20 years.
It's identified Spanish, Arabic, French, Mandarin, German, Portuguese, Italian, Russian, Turkish and Japanese as the most important languages to know over the next 20 years.
"The big myth that we need to bust with this report is the idea that English, on its own, is enough," said John Worne, British Council Director of Strategy. "If you go to China, if you go to Brazil where Portuguese is spoken, if you go to Russia, they're places where it's very hard either to do successful business, or indeed have a great holiday, if you haven't got some smattering of the language."
Foreign players at Premier League team West Ham are also tackling Britain's foreign language deficit. They are giving their academy children lessons in their native tongue.
"I think it's good for the youngsters to get used to learning new languages because it enriches the Premier League and it could help them if they play with foreign team mates in the future," said footballer Alou Diarra of West Ham United.
A recent study shows fifteen percent of all British people can speak French, six percent German and four percent Spanish. But other languages such as Arabic, Mandarin, Russian and Japanese can only be spoken by one percent. Teachers and activist are hoping to turn the tide with their efforts.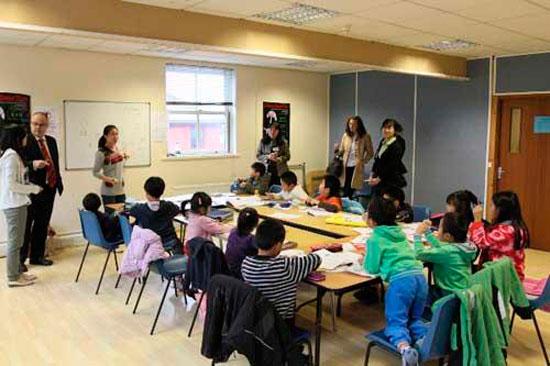 Mandarin learning is on the rise in UK.
Related stories
Editor:Zhou Minxi |Source: CCTV.com