Watch Video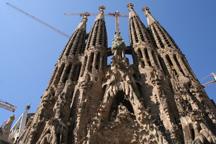 Play Video
Barcelona's Sagrada Familia is for many an iconic symbol of the city's most famous architect, Antoni Gaudi. Now the church of the "Holy Family" is preparing to celebrate Christmas and for the first time it's allowing pilgrims to visit the nativity scene.
The spires of the Sagrada Familia reach for the heavens, dominating the Barcelona skyline.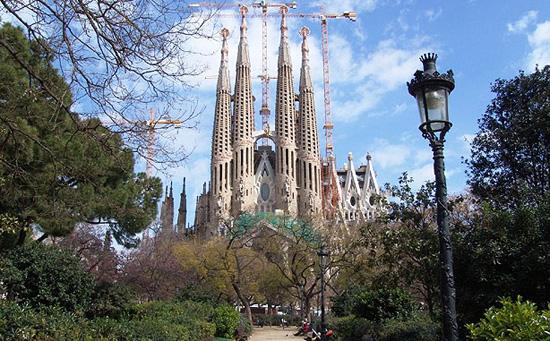 Barcelona's unfinished basilica prepares for Christmas
144 years after construction began in 1882 the Sagrada Familia will be finally finished in 2026.
The Art Nouveau basilica with sandcastle-like spires was initially conceived as a temple to the sacred family of its name, Jesus, Mary and Joseph. The building is currently dwarfed by cranes working on the construction of further towers.
But Christmas songs ring out and light floods through modern stained-glass windows, with the series of columns resembling a forest of giant trees towering above.
High above the heads of the tourists, construction workers are busy.
Work on the site began in 1882, with Gaudi working on the project until his death in 1926.
Knowing that he wouldn't live to see the church finished, Gaudi left parts of the building open to new art and architectural trends.
The original blueprints by Gaudi were destroyed by a fire during the Civil War in 1936.
Much of the designs that can be seen today inside were done by guessing and assembling plaster casts that survived the fire.
The imposing Roman Catholic basilica has two main facades: the Nativity and the Passion, both representing the birth and death of Jesus Christ.
Lluis Bonet, brother of former chief architect Jordi Bonet, is the local parish priest.
He says that Christmas is a special time for the basilica as its name Sagrada Familia (in catalan) translates as 'Holy Family' thus alluding to the birth of Jesus.
This Christmas pilgrims can visit the nativity scene thanks to a special platform that allows them to climb up the nativity facade and pay homage to the baby Jesus.
Related stories
Editor:Zhang Hao |Source: CCTV.com