Watch Video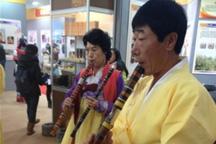 Play Video
An expo featuring the diversity of China's ethnic culture has recently opened in the capital. Hosted by the State Ethnic affairs Commission, the event invited artists and craftsmen from all over the country to demonstrate their unique arts and cultures.
An array of ethnic music is on display in the exhibition hall here. From the Tibetan ballad of King Gesar, to the Uighur Mukam, as well as a Korean gayageum performance. Meanwhile, traditional craft work is also being shown.
China has 55 ethnic minority groups and each one has something unique and interesting to display, from embroidery to porcelain, paper-cutting and palm-leaf scriptures.
Currently, there are 433 items from ethnic minorities' cultures out of a total of 1,219 national intangible cultural heritages, including this ancient musical instrument with one string.
The man playing it is Su Chunfa. He started learning to play when he was five and it has remained an important part of his life for the past 50 years.
During the past few decades, Su Chunfa has taught over 200 students to play traditional music. It is said that 500 years ago, ancestors of the Jing people were inspired by the sound of rope hitting a boat's mast, and subsequently invented the musical instrument.
For many, paying tribute to ancestors is always one of the most important events during the year. The masks on display here are the means by which the Mulao people worship their ancestors.
The 36 masks stand for 36 gods in the Mulao culture, including the God of Earth and God of Crops. The festival was listed as a national intangible cultural heritage in 2006.
Related stories
Editor:Zhang Hao |Source: CCTV.com