Watch Video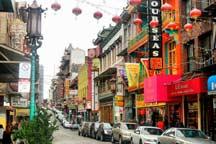 Play Video
By CCTV correspondent Mark Niu
Chinatowns have long been important neighbourhoods in many cities. But now some have transformed to the point that there are fewer Chinese people living there. What's left is a tourist attraction that some say feels artificial. But for the U.S.' largest Chinatown, there are some positive signs.
The largest Chinatown outside of Asia spans 24 blocks. San Francisco's Chinatown is North America's oldest Chinatown too - established in the 1840's.
"This square is where it all began. The Chinese community fought to save this neighborhood and it's the first Chinatown in the whole country. This is where Asian Americans began," said reverend Norman Fong, executive director of Chinatown Community Development Center, a group that has worked tirelessly to both preserve and rebuild.
Unlike other Chinatowns in the U.S. which have decayed, people still live here, about 20 thousand, many in housing that's right on top of stores and shops. More than half live in single-room occupancy units, which stem back to the early 1900's when America wanted Chinese laborers but not their families.
Space can be tight. Mrs. Ji shows us her 4.4 square meter living quarters, which would cost 500 to 800 dollars per month, if not for the Community Development Center's efforts to reduce prices to about 200 dollars.
This laundry room is the exact same size of a single-room occupancy unit. If I stretch my arms across I can practically touch the walls. Believe it or not, there's a huge waiting list to get a spot in this building. Chinatown is right on the edge of San Francisco's financial district, some of the most valuable real estate in the country.
"One of the scariest things is that they could take over Chinatown buildings and we would lose our housing," Fong said, "We got the city to agree that keeping affordable housing is important. That's how we have a strong Chinatown today."
Fong's group has led the charge for new housing like the International Hotel, which has 104 residential units. Mr. Watt shows us his home, which is far more modern and spacious than the older housing.
The streets of Chinatown are changing too. Twelve of Chinatown's 31 alleys have been renovated, cleaned up and beautified. Local teenagers created this mural and are doing much more:
"It's like a responsibility for me to help this community out," a teenager said.
"We are like a family, we should help each other. That's why I do it."
While many other U.S. Chinatowns have become just tourists attractions, San Francisco's retains its soul, so much so that the American Planning Association recently named it one of the ten great neighborhoods in America.
Related stories
Editor:Zhou Minxi |Source: CCTV.com