Watch Video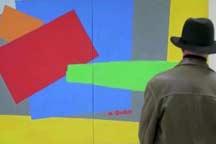 Play Video
It's a hundred years since avant-garde artist, Kazimir Malevich, created his world-famous work "Black Square". Now artists in Belarus have set up an exhibition honouring the artist and his genre-changing work.
Known as the father of suprematist art, this exhibition at the Vitebsk Regional History Museum in Belarus is dedicated to the inspirations of Kazimir Malevich.
This painting is called "Black Square". Its release laid the foundations of the abstract geometric art form suprematism. It sent shockwaves across the art circles when it was first put out for public viewing in 1915. That's why many consider it a crucial part of art history.
"The most important painting of the 20th century," said curator Cruz Garcia, of Central House of Artists, Moscow, "because there were many attempts to break away from figurative art, like Kandinsky and other artists. Picasso started with cubism to break away from the form reality, but the point of maximum reduction came with the 'Black Square', and with the black circles, and after that then, I think that a new type of art in the 20th century was born."
Malevich's works inspired generations of artists after him, not only painters but also sculptors.
"The sculpture 'Flame Bearer' is one of a whole series of sculptures on this theme. It is based on elements typical for Kazimir Malevich and his basic colours: black, white, red and yellow. The objects are the cross, circle, (and) square. The entire volume has been composed from Malevich's art forms. The sculpture is meant for today's urban environment," said artist Alexander Slepov.
The Black Square exhibition opened on 1 November 2013 and runs until the end of January.
Related stories
Editor:Zhou Minxi |Source: CCTV.com