Watch Video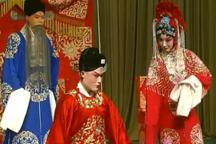 Play Video
Peking Opera students at the famous National Academy of Chinese Theatre Arts are preparing for the next stage in their lives, as they look towards graduation. We join them at their all-important showcase, with industry figures attending who could be their pass to success.
These students have been studying the art of Peking Opera at the National Academy of Chinese Theatre Arts for four years. And this is their last performance on the school's stage. It could be the most important performance of their lives. Talent managers are attending the showcase, on the look out for the next big thing.
And the young performers give it their all on stage.
"I've prepared for a very long time and I'm confident. This could be a turning point for me," said Wang Yanli, a student.
After the performance, a job fair was held. The young performers get the opportunity to talk to their potential employers. There are 59 graduates from the Department of Peking Opera and most of them want to stay in Beijing long-term.
The China National Peking Opera Company received 54 resumes - tough competition indeed.
"I understand why they all want to work for the theatres in Beijing but there are only jobs for a handful of them. So presure is mounting for them," said Wang Ning from HR at the China National Peking Opera Company.
But theatres outside the capital saw less interest from graduating students. A theatre in Shanxi Province only received two resumes. Dalian Peking Opera Theatre is doing better, with nearly 30.
"There are also opportunities outside Beijing. Local theatres are in need of young performers. They could have more chance to perform and thus grow as an artist there," said Yan Jianfu from Dalian Peking Opera Theatre.
Many theatre managers suggest that graduates should re-consider their options. The stage is set for them, and not only in the capital.
Related stories
Editor:Zhou Minxi |Source: CCTV.com