Watch Video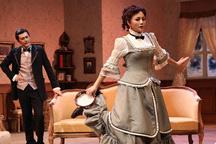 Play Video
Norwegian playwright Henrik Ibsen's 1879 play "A Doll's House" has enduring appeal, still frequently performed all over the world today.
A current production in Chinese at Beijing's National Centre for the Performing Arts pays tribute to the 100th anniversary of the play's premiere in China. A surprising element to this production is that the famously turbulent lead couple are played by a real-life husband and wife.
A century has passed since Henrik Ibsen's play 'A Doll's House' first debuted in China. At the time, it caused a sensation and ever since the play has been inspiring generations to embark on a road seeking independence and freedom.
Nora's complex character has puzzled and fascinated audiences since its debut. Originally performed at a time of gender inequality, a woman seemingly abandoning her husband and children was controversial. Yet today the role is often praised for its courage, pioneering a way for women to be represented when a male equivalent may face less scorn.
The play's ensuring themes of family and relationships are reflected through this current production. As the veteran actor Wang Ban, who plays Torvald Helmer, says they wanted to go beyond ideology and focus on humanity in family life.
It was the director's idea to invite Cao Ying, a TV host and film and TV actress who has never performed on stage before to appear alongside her husband. The happy couple in life have to work here to depict a family that is breaking in two.
"A Doll's House" runs from Tuesday night at the National Center for the Performing Arts and will run through to January 29th.
Editor:Zhang Dan |Source: CCTV.com