Watch Video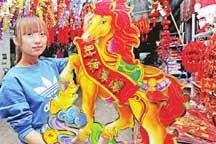 Play Video
The Spring festival is less than a week away, but Beijing residents and ethnic minorities across China are already celebrating "little" new year.
Here in the Guangxi Zhuang Autonomous Region, residents of Liu Feng village in Southern China are celebrating new year, the "little" version. They belong to the Zhuang ethnic minority, the largest such minority in China.
Little new year generally comes a week before the official Chinese new year. But traditions vary across regions. For the Zhuang people, a grand feast is at the center of the celebration.
"We hope this feast will bring blessings in the coming year." Ethnic Zhuang Villager said.
Meanwhile in Guizhou Province of South West China, the Buyi ethnic minority are celebrating little new year with a musical gathering in the square.
The women are dressed in ethnic clothing and making rice dumplings for the occasion. Others make handicrafts and decorations for the new year, in the hopes of making a fresh start.
In the capital Beijing, a dragon boat race is taking place. Only, at this time of year, it's on ice.
"It's such a beautiful day, great for fun gatherings like this. It's good exercise too." Beijing Resident said.
Here at Prince Kung's mansion in central Beijing, a host of old little-new-year celebrations are underway.
All kinds of traditional snacks and souvenirs are up for sale, including traditional figurines and clay figures. Visitors here can also interact with performers and watch acrobatic shows.
With all the celebrations leading up to it, there's no doubt that this Chinese new year will be another festive celebration.
Related stories
Editor:Zhang Pengfei |Source: CCTV.com