Watch Video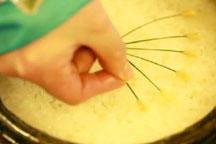 Play Video
For the first time ever, at this year's Spring Festival gala audience members in the studio will share a massive New Year Cake, containing dried fruit delicacies from around the country.
One of the major ingredients to top the Spring Festival Gala cake are raisins from Turpan, an oasis city in the Xinjiang Uygur Autonomous Region. Its high temperatures, scarce rain and ample sunlight are ideal for the planting of grapes.
Turpan raisins make up 80 percent of the total output of dried fruit in China. Houses can be seen everywhere in the city that are exclusively for drying grapes.
"Very sweet, and they come from a variety of grapes. We can not find so many kinds of raisins in Taiwan." Wu Zixian, Tourist said.
Another indispensible topping on the cake are pine nuts. Nuts from red pine trees at Changbai mountain are believed to promote longevity, as the trees can live up to four or five hundred years. Pine nuts are produced here in abundance, and contain various fatty acids, proteins and vitamins. And they happen to be essential to Korean cuisine.
"We call pine nuts the "fruits of longevity". So we use them widely in our food." Li Shu, Chef said.
There are also dried persimmons from Shaanxi Province, a delicacy that dates back to the Ming dynasty. Persimmons produced in Fuping county are big and sticky. And the drying process takes 45 days to guarantee the right sweetness.
Meanwhile in Beijing, preserved fruit is a major local speciality. The making of dried fruits started from the end of the Ming dynasty. The fruits are soaked in honey before being boiled and baked into a delicacy that is both sweet and sour. And they are indispensible for families making new year cakes at home.
"There are essential ingredients for the new year cake made in Beijing, including blocks of hawthorn, which has a red color that signifies fire and prosperity. This green one is called Qing Pu and stands for fortune, as Pu sounds like Fu, meaning fortune. The hawthorn slices imply smoothness, while this dried fruit soaked in honey represents wishes for a sweet new year." Zhao Shu, Food Expert said.
Winter is not a season for growing and harvesting fruit, so people eat dried fruits to compensate. Because of that, fruity new year cakes have long been an annual tradition.
Editor:Zhang Pengfei |Source: CCTV.com