Watch Video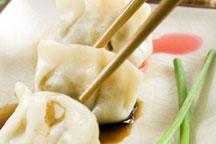 Play Video
No Spring Festival would be complete without dumplings at the dinner table, and in different parts of the country they vary in shape and flavour. In Tianjin, a city famous for its steamed buns, dumplings are also a local favourite. But instead of meat filling, it's all about the veggies.
Before taking a bite of the dumplings, let's head back to the kitchen and hear the galloping hooves for the year of the horse.
The thunderous chopping sound back here surely makes you wonder what kind of tasty dish you're in for.
In Tianjin, Jiaozi, or dumplings, are enjoyed all year round.
They are eaten during important seasons like the beginning of winter, as well to welcome guests or to see them off.
There are more than 200 kinds of stuffing for dumplings in Tianjin, but when it comes to the most original flavour, there's only one answer.
"For the lunar New year, it has to be the veggie dumplings, the most traditional."
But it's no easy task to make these widely-enjoyed delicacies
The most traditional consists of at least 8 ingredients and 5 seasonings.
The colors are an inviting red white and green, and the filling is also nutritionally balanced, with mushrooms, vegetables and soy bean products.
The meaning behind the veggie dumplings is also as rich as its ingredients.
"Baicai, or cabbage, is pronounced the same as Baicai which means great wealth. And mushrooms are shaped like gold ingots. They're all supposed to bring good luck in the new year." Wang Yanming, Tianjin Chef said.
Preparing the stuffing also requires a lot of technique.
To bring out the flavour of the ingredients, the chef must dice the veggies as small as possible.
"The slicing technique is quite demanding. It's more like grinding the ingredients rather than slicing them." Wang Yanming said.
The ingredients are then carefully mixed together with sesame paste.
Then it's off to cook in boiling water.
And with the steaming hot dumplings on the dinner table, it's time for the whole family to sit down and enjoy.
Simple as it may seem, these veggie dumplings and the cozy feeling they create makes it the perfect dish for the holiday season.
Related stories
Editor:Zhang Pengfei |Source: CCTV.com