Watch Video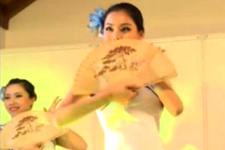 Play Video
Not only is the holiday atmosphere in China building up, the festive spirit has spread to other parts of the world as well. In Rome on Saturday, the Chinese Embassy invited locals to take part in Lunar New Year celebrations and to experience some traditions for themselves.
After the Chinese ambassador to Italy, along with Rome's mayor, added the final touches to this dragon, the celebrations for the Spring Festival here in Rome officially kicked off.
Art troupes from Hunan and Shaanxi Province treated locals with the most original folk performances in China. Their stunning performances even attracted some little ones attempting to imitate. Chinese students in Rome and local martial arts enthusiasts also participated in the performance.
The Mayor of Rome, Gianni Alemanno, expressed his gratitude for the artists coming from afar: "Chinese people are very diligent and courageous and strive to be the top, and it's these precious qualities that have made the China we see today."
Since 2011, China's embassy to Italy has been organizing Spring Festival celebrations in Rome, bringing traditional Chinese art to locals.
"This kind of event really brings the Chinese and Italians closer. And that in turn can boost our bilateral relations," said Li Ruiyu, Chinese Ambassador to Italy.
Recently, China's Ministry of Culture has initiated their 2014 overseas Spring Festival campaign, aiming to bring Chinese New Year celebrations to foreign countries. Up to 500 different kinds of activities will be carried out in some 300 cities in 103 countries.
"We really want to dig deep into the core value of the Spring Festival, to integrate the family concept into the festivities and to promote this cultural brand," said Zhao Haisheng from the Bureau of External Relations of the Ministry of Culture.
In addition to music and dance performances, the Spring Festival celebration campaign will also feature temple fairs and cultural exhibitions.
Related stories
Editor:Zhou Minxi |Source: CCTV.com