Watch Video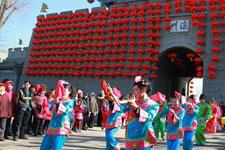 Play Video
People are almost through the Spring Festival holidays, but the celebrations are continuing. From the Di Yanko Dance in the north of China, to the Nuo dance and the unique custom of "Datongnian", it's interesting to see how the new year celebrations vary around the country.
In the ancient city of Luanzhou, 200 kilometres east of Beijing, local residents celebrate the Lunar New Year with a unique performance called the Di Yanko Dance.
Luanzhou's version of the dance originated over a thousand years ago, in the Song Dynasty. Over the centuries, it has evolved, adopting elements from different dances and cultures around northern China.
Its current form combines dancing with singing.
"I really like it. It's so much fun," a resident in Luanzhou said.
The Nuo dance from the city of Wuyuan in Jiangxi Province is one of the first to be listed as a national level intangible cultural heritage.
Hailed as a living fossil of China's traditional dance, the performance portrays legends and folk tales with its unique, exaggerated and vivid gestures.
To mark the beginning of spring and to hope for a prosperous year to come, residents once again turn to this ancient dance.
"I've never seen such an original form of dance before. It's amazing," a visitor in Wuyuan said.
While in Chengdu, locals gather at the poet Dufu's Thatched Cottage, paying tribute to him and admiring plum blossom.
And if you like you can even have a plum blossom print on your forehead.
The bell tower here is also packed with people, hoping to literally ring in the new year, offering blessings for their loved ones.
"We came very early this morning to ring the bell to bless my family and friends," a resident in Chengdu said.
And in Rongshui County in the Guangxi Zhuang Autonomous Region, ethnic Miao people dance at a traditional party called "Datongnian".
This unique custom is seen only during the lunar new year as a way to celebrate unity as all the dancers are believed to have become sworn brothers and sisters afterwards.
The dance is followed with a grand feast with all kinds of lunar new year food, including pork and glutinous rice.
Related stories
Editor:任仲希 |Source: CCTV.com