Watch Video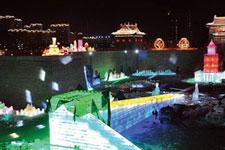 Play Video
By CCTV correspondent Hu Qiao
A lantern show in Datong, in north China's Shanxi Province, has been attracting tens of thousands of visitors during the Spring Festival holiday. One of the most famous historical and cultural cities in China, Datong's ancient walls provide a splendid backdrop to the festival.
This ice slide is one of the main attractions here. 56 meters long, it is a favorite among the children. But since it also has lights inside it, people consider it as an ice lantern. Its name is "Flying Over the Great Wall."
The lantern show contains over 60 series of lanterns, among which 12 are ice lanterns. Traditional lanterns and modern lanterns mix together, creating a warm and happy atmosphere. Many horse lanterns here are also a popular place for taking photos. The show also has various activities including traditional operas and lantern riddle guessing.
It's the second year that the local government has organized such a Spring Festival lantern show under the ancient walls. Here people not only can enjoy various kinds of lanterns but can also appreciate the beauty of ancient architecture.
In 2008, the government started to rebuild the ancient walls in this historic city. The rebuild has now been completed. The newly built ancient walls cover an area of about 3 square kilometers. They have become a calling card for the city of Datong.
Officials say since the lantern show started on February the 2nd, over 80,000 people have visited the show. Even more people are expected to visit in the coming days. The lantern show ends on February the 16th.
Editor:任仲希 |Source: CCTV.com