Watch Video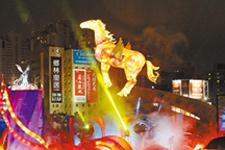 Play Video
The Lantern Festival is fast approaching, with Friday marking the end of the Lunar New Year festivities. But even though there're still a few days to go, lantern fairs are already being held in various cities in Taiwan.
In the city of Taizhong, the annual lantern fair gets a huge head start. As it's the Year of the Horse, the equine animal features prominently here. A 10-meter high horse lantern rises up to the night sky, as over 10,000 onlookers show up for the opening ceremony.
A 10-meter high horse lantern rises up in Taizhong, celebrating the upcoming Lantern Festival.
"It's truly gorgeous... much better than I had imagined. Plus the angelic voice of the singer, it's so good!" A visitor said.
In the city of Tainan, the opening of the local lantern fair draws in over 500,000 people. The fair features the worshipping of a legendary goddess called "Mazu". Many hope the goddess will bring them health and fortune in the Year of the Horse.
The lantern fair in Tainan will reach its peak on Thursday, when the much-anticipated firework show light up the sky. This year, a group of performers from the Guangxi Zhuang Autonomous Region will join the action.
Related stories
Editor:Zhou Minxi |Source: CCTV.com