Watch Video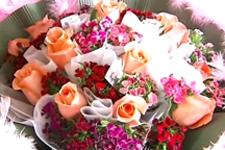 Play Video
The Chinese Lantern Festival this year coincides with Valentine's Day. People across the country are planning to celebrate the combined festivals in traditional and new ways.
Well-known dancers and singers from Shanghai are visiting Taipei as people across the strait warm up for the coming Lantern Festival. The Shanghai troupe are singing, dancing and performing acrobatics in Taipei, before also visiting Taoyuan, Penghu and Yunlin.
Back in the mainland, a dragon lantern parade is essential for ushering in the festival. And in Zhejiang Province, people are lighting lanterns days in advance.
This year, Lantern Festival coincides with Valentine's Day. And as the festival atmosphere builds up, sales of flowers and chocolates, as well as a traditional Lantern Festival treat, are heating up fast.
"Sales of tangyuan and chocolates are increasing. Packed chocolates are selling well as young people like to give them as presents," said Zhang Bin, a supermarket employee in Shaoxing.
But because of snow and low temperatures in Yunnan, China's major flower farming region, prices of flowers are much higher than usual. "Normally, a rose costs five to eight yuan, but goes up to 15 yuan on Valentine's Day. This year, prices are estimated to reach 25 to 30 yuan," said flower shop owner Xiong Yao.
However, flower sales show no sign of dipping. And flowers booked by phone or on the internet are also receiving a warm holiday welcome.
This year, Lantern Festival coincides with Valentine's Day. (Xinhua)
Editor:Zhou Minxi |Source: CCTV.com