Watch Video
Play Video
By CCTV reporter Stanley Lee
A strong contender for the coveted top prize at the Berlin Film Festival is director Claudia Llosa's latest film "Aloft". Jennifer Connelly stars as a mystic healer in the Latin American made, English language film, along with Cillian Murphy and Melanie Laurent.
A "New Age" healer with an estranged son working as a falconer - this is the story at the centre of Peruvian director Claudia Llosa latest feature, "Aloft". With English dialogue it reflects a trend in Latin America where film production is becoming increasing globalized.
"The film starts very heavily, very darkly, comparable to the first chakra that is all about survival, just like lava spewing into the air, it is very primal," Llosa said. "Step by step the film is elevated and you literally leave the darkness and you will see something a lot brighter, lighter and hopeful, a place where the characters have to carry less weight on their shoulders."
Llosa was skilled at successfully attracting the A-list cast to the project, all of whom are also hopeful the movie will be well received.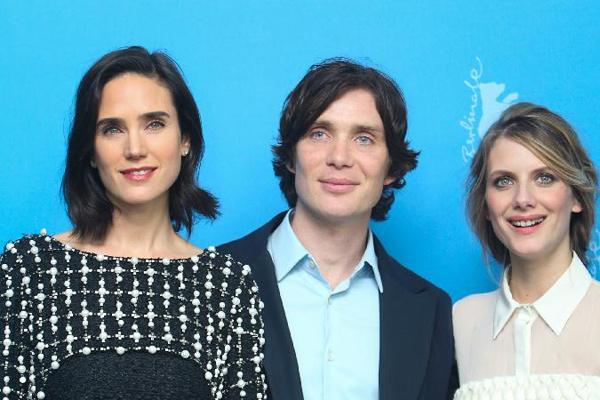 Jennifer Connelly, Cillian Murphy and Melanie Laurent pose for photographs at the photo call for the film "Aloft" at the 64th Berlinale International Film Festival in Berlin, Germany, on Feb. 12, 2014. (Xinhua/Zhang Fan)
"I had not read such a wonderful script in a long time. I immediately wanted to be part of it," said Laurent. "And then I met the director in a cafe in Paris. She opened her laptop and showed me pictures, ideas and sketches. It was crazy, I fell in love with her immediately."
"I think that all the characters are very complicated. They all do things one could easily judge. They are not cleaned up and made tidy. And Claudia doesn't spend time trying to square those things away," said Connelly. "But then I think that's how life is and I think that they are all really beautiful characters despite that."
In 2009 Llosa won the festival's top prize, the Golden Bear, for Best Film for "The Milk of Sorrow". Many are hopeful that she will pull off the same feat again this year.
Editor:Zhou Minxi |Source: CCTV.com