Watch Video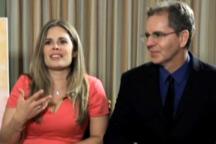 Play Video
In film news, it's been two weeks since Disney's animated feature Frozen landed in China. And with a worldwide box office of over 900 million dollars, Frozen has become the studio's biggest hit since 1994's "The Lion King." And now, with two Oscar nominations, it's a must see for audiences all over the world. Our reporter Kristie Hang sits down with the filmmakers, who let us in to the world of Frozen.
The success of the musical fairy tale "Frozen" — and its hugely popular soundtrack — represents a major thaw for the Disney animation studio. The main elements are there - memorable songs, funny and quirky side characters and the most spectacular animation. New elements like not relying on "Prince Charming" to save the day, but rather, two sisters – who overcome Everest-like conditions - also made the movie very timely and refreshing. The films directors Chris Buck and Jennifer Lee sat down after the Oscar Luncheon to talk about the success and their purposeful storytelling.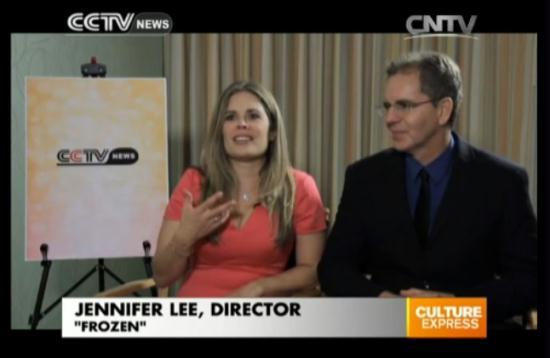 Our reporter Kristie Hang sits down with the filmmakers, who let us in to the world of Frozen.
Kristie Hang asked, "First of all, congratulations! What's been the most exciting part of this whole journey? What are your feelings right now?"
Jennifer Lee, director of "Frozen", said, "Yeah, it's been amazing. But I do think what's been surprising for us is that we didn't know if we did a musical with two female leads would it – would the world come to see it but I think what the reception has been far exceeded our expectations and so we're just delighted and so overwhelmed by it."
Much of Frozen's outsized success is attributable to its music. Topping the Billboard charts, the soundtrack has inspired a YouTube mini-genre of fan-made videos of girls belting out "Let It Go" in their living rooms. And Disney has announced that a Broadway adaptation is in the works.
Kristie: "What do you think has made it such a big success internationally – worldwide – everyone is singing the songs. There's now a sing-a-long in theaters. I mean, these are going to be the next Disney rides coming out, I'm sure."
Jennifer: "Yeah, I'm sure we'll be analyzing it for a really long time to figure out exactly why. I mean, one thing I will say that – we grew up on the Disney classic films – the musicals and the grand musicals – I was right at the age with having The Little Mermaid and the Lion King and Beauty and the Beast and this generation – It's been about two generations since those films and I think for a lot of people, this is the first musical for their generation – particularly a lot of teenagers and kids and I think that what's amazing is getting to see them responding the way we did except we get to watch it on YouTube. We didn't have YouTube as kids so for us there's such a special thing in that because it just feels good to know they can experience something that was a big part of us – our live growing up."
Kristie: "Was there anything that went wrong during production? I remember when Kristen Bell said in an interview that after 12 months of a script they scrapped the script and started all over."
Chris Buck, director of "Frozen", said, "Yup. It was about four years of production and we'd done some development in the first two years. We'd done some things that stuck but that was more of the visual end of it – designing backgrounds and designing characters and all that but not until Jen came on as the writer that we really kind of really start to hammer out the movie that you see that's on the screen."
Jennifer: "I think what we were struggling with – the biggest struggle was Elsa. We were staying very true to the book and she was a villain and we really – no matter how much we wanted to make it good versus evil – we wanted to do something different. We wanted to do love versus fear and the minute she became evil it just took over so, I think that was a big wrestle for a very long time and it wasn't until a couple of months I came on when Booby and Kristen did a demo of Let It Go for us that kind of set us free from saying that she can actually be more interesting than a villain – she can be someone more complex. So, I think until we found that discovery we were going to be spinning for a while."
All the hard work paid off when the movie got a worldwide success. The theme song has been translated into different languages and China Voice talent BeiNa Yao was chosen to record the Mandarin version. The creative team definitely raised their bar really high, so is there pressure to keep the Oscar standard for future projects?
Jennifer: "You know, I think what's good working at Disney is they sort of protect you from any of that worry or any of that pressure. It's really about the story. We got so inundated, so consumed, sort of, by living in the Frozen world and really pushing the story and not thinking of sort of the world pressure around us and so I think – to me – that's the only way you can approach a story to be its best is to just focus on it and not worry about not wanting it be this or that for the world or for yourself in terms of accolades because it can mess with it. So I feel that Disney is really great about that just saying do the best story you can."
The Academy has announced that singer Idina Menzel will perform "Let it Go" during the Oscar broadcast, leaving no doubt that the film has earned its place in pop culture history.
Related stories
Editor:Zheng Limin |Source: CCTV.com