Brazil has gone wild as the annual carnival officially got underway in Rio de Janeiro on Friday. Some of the hottest action can be found in the Santa Teresa neighbourhood in the central area of the Brazilian capital.
"Carmelitas" bloco, one of the biggest and most famous annual parties in the bohemian neighbourhood of Santa Teresa. Thousands of revellers take to the streets dancing, singing, and partaking in a drink or two.
Most party goers are dressed in costumes, and the selection covers everything from famous cartoon characters to wedding brides.
A large number of people dressed as nuns and priests are typical of the Carmelitas block party.
Rei Momo Wilson Neto (3rd L) and the Queen and Princess of Carnival are seen during the official opening ceremony of Rio de Janeiro's 2014 Carnival at the Cidade Palace in Rio de Janeiro, Brazil, Feb. 28, 2014. (Xinhua/Xu Zijian)
Legend has it that during one Carnival, one of the nuns ran away from the convent to join the festivities, and didn't return till days later.
Party goers also look to fairy tales for inspiration. See if you can guess who this guy has in mind.
Friday is the first night of Carnival which will run through the coming Tuesday, March 4th.
Every year, hundreds of street bands and revellers descend on Rio during the world-famous party.
And some three million people are expected to party in Rio's streets by the end of the festivities this year.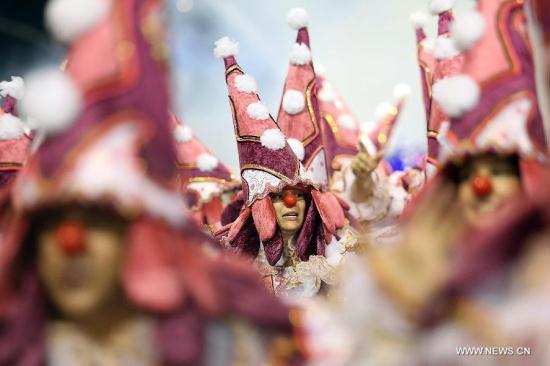 Members of Rosas de Ouro's samba school perform on the first day of the Sao Paulo's 2014 Carnival parade, in Sao Paulo, Brazil, on Feb. 28, 2014. (Xinhua/Rahel Patrasso)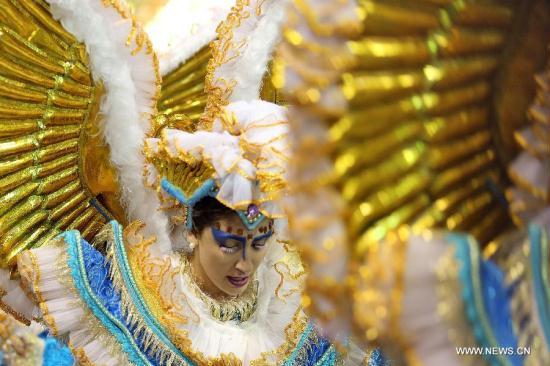 A member of Rosas de Ouro's samba school performs on the first day of the Sao Paulo's 2014 Carnival parade, in Sao Paulo, Brazil, on Feb. 28, 2014. (Xinhua/Rahel Patrasso)
Editor:James |Source: CCTV.com