Watch Video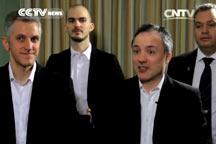 Play Video
The biggest winner of the night was "Gravity", scooping seven golden statuettes. One of those was for Best Visual Effects and the movie promises to change sci-fi filmmaking for years to come. Our Hollywood reporter Kristie Hang sits down for a chat next with the visual effects team behind this stunning film.
Audience of Gravity might be completely baffled by how they pulled it off. The four-year process of making this film involved not only filmmaking challenges but also inventing technology to make the movie possible.
Kristie Hang, "Were you guys nervous at all about this film? This film was a little bit dark – are you guys surprised at how successful, how well received it's been all over the world, actually?"
Tim Webber, supervisor of visual effects for "Gravity", said, "Yes, I think there was - we did always feel there was something a bit special about it. And as it came together we kind of – you could feel there was something special about it. It was – it's an unusual movie about one woman, largely, lost in space. It's not an obvious blockbuster and it was really hard to know how it was going to go down until literally until the premiere when the reviews came in and they were great and even then you're not sure how it's going to go down with the general public and I think it was the general public that was the most uncertain. The cinephiles were the ones that were more likely to like it so it's been incredibly gratifying that it has gone down so well."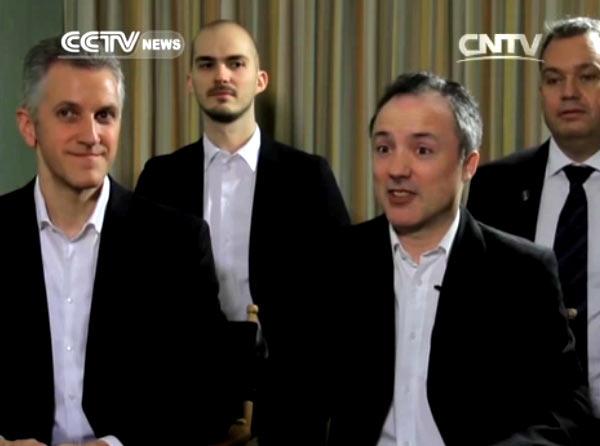 The biggest winner of the night was "Gravity", scooping seven golden statuettes.
Sandra Bullock, the Best Actress Oscar contender in Gravity, spent an enormous amount of time in a special 12-wire rig designed to allow her to float as if she were in zero gravity. Tim Webber and director Alfonso Cuarón took a trip to the NASA 'vomit comet' to experience the sensation of weightlessness. As the filming remained impractical, the team used a combination of motion-controlled cameras and light rigs to simulate the effects of micro gravity for the movie.
Kristie Hang, "So what do you think has made it so successful, the writing, the script, the cast? Is there one thing that made the movie become what it is today?"
Neal Corbould, supervisor of special effects for "Gravity", said, "I don't think that it's one thing. I think it's just a mixture of everything. Everything just gelled together and worked together and it was a great project to work on. When you're making the movie you get so fixed to what you are doing you sort of forget about the end product and when you see it – and I saw it in October, last year – and I was blown away and I worked on the movie. So it's an incredible thing to work on."
In the film, the outpace tends to extremes of brightness or total darkness. Visual effects supervisor Tim Webber and director of photography Emmanuel Lubezki tackled this problem by innovated a machine called the Light Box. The Light Box is over 20-feet tall and 10-feet across; it has a sliding door on one side that allowed access to the interior, and a gantry hanging overhead that tethered the box to a team of technicians at a control room. This technique has opened other doors to the visual effects world.
"I think the whole of the techniques that were developed for Gravity are not totally unique but kind of unique to space or to this particular movie. But there's many different aspects that we do because we had to invent so many new technologies and techniques and ways of doing things and certainly some of them are applicable to other movies and are already starting to be used in other movies," Tim said.
The Visual Effects team on Gravity has changed the vocabulary of filmmaking, and because of their innovations, the movie is compelling, groundbreaking, and gripping. Though the Visual Effects masters said the movie was never about the technologies but the story, the big chance of winning an Oscar this year surely is worthy of a celebration.
Editor:Zheng Limin |Source: CCTV.com