Young Tibetans refresh old Thangka art >>
Inheritors for Tangka painting >>
Tangka is a kind of scroll painting mounted on silk. It has distinctive ethnic features and a strong religious flavor. Its unique artistic style is highly prized by the Tibetan people.
Most tangkas are painted on cloth, silk or paper, but there are also tangkas of embroidery, brocade and applique. Embroidery tangka is done with silk thread of different colors, depicting landscapes, figures, flowers, feathers, pavilions and towers. Brocade tangkas are woven on jacquard looms, with warp-and-weft patterns. Applique tangkas are made by pasting figures and patterns of colored silk on a background material; and kesi tangkas are like relief sculpture, with a three-dimensional effect, something like a special handicraft combining the art of painting with silk weaving. Full Story >>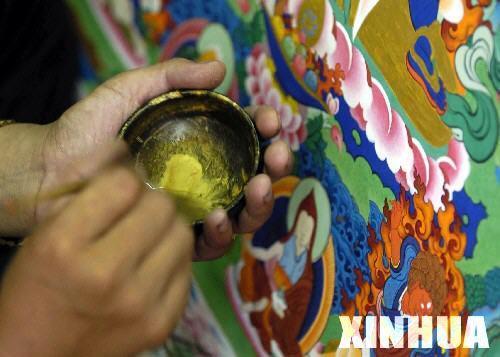 Painted on paper or cloth, Tangka paintings mainly depict stories of Buddhas.
Editor:James |Source: CNTV