Any weekend night in Nairobi is vibrant. The city dwellers crowd the clubs that have food, beer and music. At club Vibro in Nairobi West it´s no different. A lively band is busy entertaining the eager crowd of night revelers. At first glance judging from their dance moves and style you will think it´s a band of young twenty-something year olds, but oh no. All three average 60 years old and have been entertaining night revelers for the last 42 years across East and Central Africa. This is Mangelepa.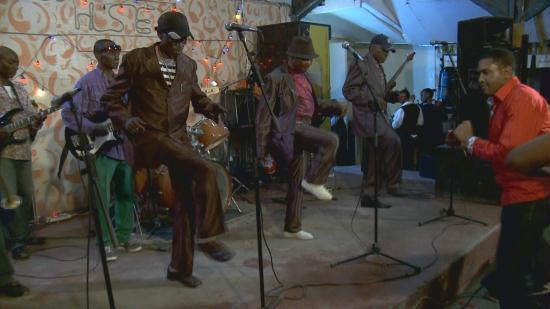 Mangelepa musical band performing in a night club
Vivi, "Today´s performance was fantastic. It was very good."
Vivi, "We always start performing at eight pm. That is how Mangelepa performs."
Maki,"Here we can´t sleep. We sit and reminisce with friends and fans about how music used to be. And think of how we´re going to do it in future."
So the entertainment continues, and from their smart outfits and cool demeanor, one would be forgiven to believe that these are seasoned entertainers, fabulously rich and wealthy beyond their dreams, however a closer look brings shocking surprises…..
The music industry in Africa generates two billion dollars a year. Specifically Congolese musicians like, the late Franco Luambo Makiadi, Tabu Ley, Papa Wemba and even recent favorites like Kofi Olominde and Awillo Longomba, are all known to be incredibly wealthy, their unique music, so popular all over the world generating millions of dollars in royalties for them.
Mangelepa, were the early trendsetters. In the early 70s, they moved from Lubumbashi in eastern DRC in search of the fame and fortune to be harvested from music….
Evani,"I did my first performance with Baba Gaston in 1969. Baba Gaston decided we go to Kinshasa to do our recordings. He left for Tanzania and got a contract there. So we travelled to Tanzania instead of Kinshasa where we got a studio and equipment. In 1973 we came to Nairobi to do more recordings. In 1975 we moved to Nairobi permanently."
Vivi, "I was waiting to get employed as a carpenter in the railway company. I never did carpentry. I went straight into music."
Maki, "I used to work in a radio station. We compiled a few songs with my friends and played them on the TV. That is when Baba Gaston noticed my talent."
Vivi, "Baba Gaston got a contract here in Uhuru Park. In Park-Inn. In that building over there."
But the search for fame and fortune from music was still on, ….. something that brought a wedge between them and their father of music, the late Baba Gaston…..