Ever since the wright brothers flew the first airplane in 1903, aviation has been dominated by men. But there is a new face of flight.
Patricia Mawuli, said, "Ok, many people wouldn't know me. My name is Patricia Mawuli."
Patricia is the first woman to be awarded Ghana's national pilot's license and the only woman in the world to be a certified rotax engine mechanic.
Patricia Mawuli, said, "That is a big credit to my country of course. And to the youngsters who are looking up to me."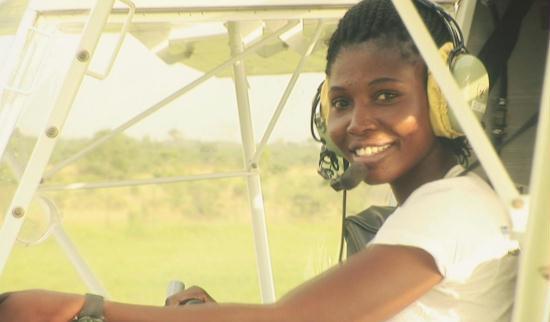 The Ghanaian Female Pilot, Patricia Mawuli in one of the aircrafts.
In a day and age when female pilots are still a rarity, especially in the traditionally male dominated societies of West Africa, twenty-three year old Patricia has become somewhat of a local celebrity.
Patricia Mawuli, said, "6% only 6% of the world's pilots are women. I think especially in my culture because women are not given the opportunity. Someone tells them; "oh flying is very risky and dangerous and not good for women and they don't make better pilots". In Ghana many people think women only belong to the kitchen or the house looking after the children and fetching water and cooking for the family. For me, I have always believed that a woman can go further than that. It is my goal to change that perception because for something like that to change in a developing country will take somebody like me. It takes one."
Born in 1988, Patricia grew up in Mepe, a small rural village ninety kilometers north east of Ghana's capital city, Accra.
Patricia Mawuli, said, "I grew up in a community that is full of people who do farming, trading, fishing and hunting. And usually our villages are made up of mud huts and covered with thatched roof. There is no electricity. We fetch our water from the streams, so we basically walk like 5 miles to get to where the water is. We bring it into the house and sometimes we have to filter it and then boil it before drinking. So a lot of my growing up was done in Mepe with the family and then I left to do some of my schooling in Somanya."
At boarding school Patricia grew especially close to her English teacher, a relationship that has lasted over the years.
Linda Woka said, "The parents at a certain point in time they neglected her. They neglected her. She would be worried; she's been worried. She'd be crying. So I'd tell her "oh you shouldn't worry. I will take care of you. Don't worry".