The tall buildings of Cairo loom over the River Nile.
Here in the Egyptian capital, most people are on their way to work – stuck in the city's notoriously dense traffic jams, or crammed into metro cars like sardines.
But below the hustle and bustle, the river seems peaceful.
One fisherman works his trade here in nature, where the Nile weaves through the ancient city.
Abu Ahmad prepares his nets for his day's work – his wife and daughter by his side.
He says he never knows what the day will bring.
ABU AHMAD, "Do it, do it.Easy, easy."
As far as he's concerned, it's all in the hands of God – but the important thing is that he carry out his tasks with honor and respect.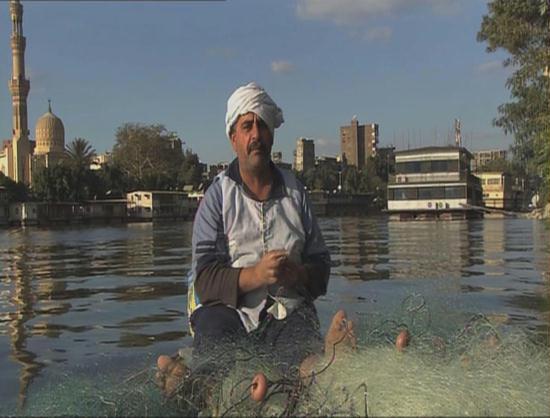 Abo Ahmed apt out his fishing nets on River Nile.
And, if possible, stay away from Cairo's crowds as much as possible!
Abu Ahmad's boat is simple– traditional.

On the wooden vessel, and armed only with two wooden oars, his wife guides out into the great river.
Abu Ahmad shuns modern fishing techniques, preferring instead to work the way his father and grandfather did before him.
His nets, too, are made of traditional materials– thin nets that move with the water.
ABU AHMAD, "We consider this boat our house. This is the source of our living. My sons and I work on it. My wife also works with me to help. I have five children. All of them study in school. They are educated very well."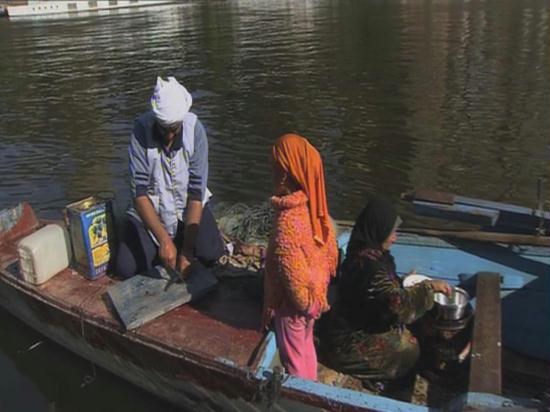 Abo Ahmed (right), his daughter (centre) and his wife Om Ahmed in their boat on the Nile.
The fisherman feels blessed to spend his life on the Nile River.
He thinks the river rewards good people.
But the life of a fisherman is not free of struggle– it's a hard life, but it's the life he's chosen for himself and his family.
For those who grew up here on Africa's great river, there is no life away from water.
Just like the fish that swim in the waters the fishermen who ride the currents, and spend their afternoons among the tall reeds, would struggle to survive too if taken away from the Nile.
Abu Ahmad even sleeps here on his boat.
ABU AHMAD, "This boat is divided into two parts. A place where we sleep and this is the kitchen. It's better than an unlawful 100 kilos. When God blesses it for us and we catch a kilo or two of fish, my wife goes and sells it. She goes at about 10 or 11 am after I finish work. She goes to El-Moneeb Market. Sometimes we sell fish to someone we know and save her the trouble."
His days are often full of adventure, too – he never knows what he will find beneath the deep waters.