Kakamega, is set in the western part of Kenya. Home to the Luhya people, who have a diverse culture and are divided into many clans and sub-clans each with varying customs and traditions. Blessed with an almost all year round precipitation, most of the residents here practice fishing and farming. Just like any other hardworking people, the residents of this county, take part in many other economically viable practices.
When it is not all work, the men take on a little play in the form of bullfighting. A sport that for decades has remained a spectacle of strength, courage and muscle.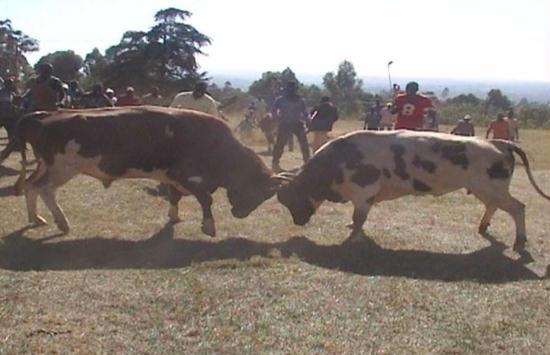 Bulls bout each other in the Kakamega's Bullfighting game at Malinya grounds.
Morris Alusiola, bullfighter, said, "My bull's victory makes me proud. My hard work pays off."
Prior to the bull fight; Cockfighting is slowly becoming a common sport among this community of bullfighters. It attracts foreigners and brings together different sub-tribes in a social event that leaders say reduces immorality.
This is a sport that has its roots in India and The United Kingdom. Senator is Morris's pride and joy, his prized possession. A bull he has reared lovingly since purchasing it a mere two years ago when it was on the brink of starvation. He caresses its head like a doting father would to his child. It's clear that he is passionate about Senator.
Morris is Bukhulunya village's renowned bullfighter and Senator is no ordinary bull used for merely tilling the ground. He is a champion.
Bullfighting is a sport that has been carried over from generation to generation. Morris recalls how his father and grandfather passed down the tricks of the trade to him and how it can be traced back to his ancestors.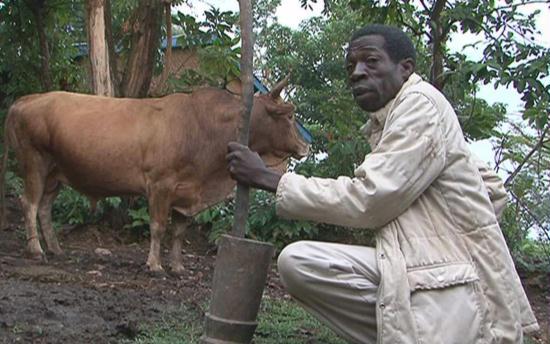 Morris Alusiola, the famous Kakamega Bullfighter prepares a forest herb for his bull,
Senator in readiness to the game.
Morris Alusiola, bullfighter, said, "My Grandfather taught me bullfighting, I accompanied him to matches. From there I became a bullfighter, since 1976, I took over after his death in 1984."
"I want you to study hard, then I can teach you about bullfighting."
Morris must strike a balance between family life and his passion for bullfighting; an obligation he feels proud to carry through.
Morris Alusiola, bullfighter, said, "I am a Father of three, one of them is keen on bullfighting, I don't inform him about matches, I wake up harsh, escort him to the school gate, then I take the cows to graze. The other one has no interest. I do not encourage him on bullfighting, because he will not study. Education is important."
The fighter bulls are specifically bred for battle. They are fed on a special diet of grass, fortified with molasses and isolated from heifers at an early age. This prevents them from mating which is believed to reduce their fighting vigor.
Solitude rearing however, does not guarantee a win. On the eve of the fight, the bullfighter feeds his bull on local brew and other secret concoctions to increase their urge to fight. Every bullfighter considers his secret concoction as the winning formula.
Morris Alusiola, bullfighter, said, "Some bulls are given forest herbs. This herb is administered in advance as it gets to the brain slowly. On the eve of the fight, the bull becomes wild that is when I remove the tether, dancers should find him untethered. Other bulls are booted with bhang which is wrong, that is how bulls kill people. Others like Senator do not need boosters, because we don't know his capability and his strength, not all bulls need boosters."
Stanley Juma, bullfighter, said, "Everyone has a winning strategy, which is his secret weapon, I also have mine, that I do not reveal easily."