This is Masindi, a small town in Uganda. These are two of Masindi's schools, Masesco Secondary and Kamurasi Primary, just two schools out of hundreds of thousands in Africa.
Opio is one of the best runners in town. His dream is to qualify for the national finals and the pressures on him to enable the school to win the trophy for the first time.
But there's another side to Opio's story. He's on the run from war, the civil war that has driven thousands of children into the Masindi district. Opio's running is his hope for the future.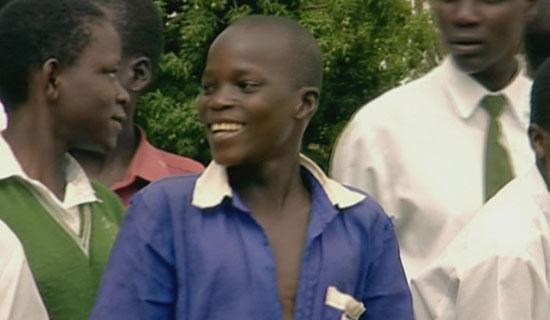 Opio with his fellow school mates
It's the week of the District Athletics Competition in Masindi. For the forty five strong athletics team from Kamurasi Primary School, it's their final early morning run.
Mr Ntairaho is the ambitious head at Kamurasi. Last year the school came ninth, this year he's determined that the prized trophy belongs to them.
Mr Ntairaho said, "This school has never won in athletics in history. But, I always want for my school get all number of trophies. It gives morale to these children."

The man in charge of realizing Mr Ntairaho's ambitions is team coach, Mr O'Jara. Today he's organized a training session for the strongest members of his team.

Winning the Masindi trophy is one thing but for the individual athletes there's also the chance to qualify for the national finals. Not only that running could be their passport to secondary education.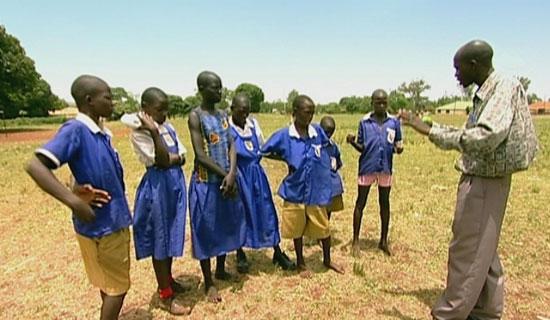 Mr. O'Jara advising top athletes of Kamurasi school about the competition.
Mr O'Jara said, "Sports is an activity which if you have got the talent in it, how to get that, it is something which can help you in various ways."
Primary education in Uganda has been free since nineteen ninety seven but parents must still pay to send their children to secondary school. There may be talent scouts at the athletics competition so there's a lot at stake.

O'Hara said, "Any person can come and pick their interest on seeing how you perform very well. They say 'oh this child is good. I'm going to sponsor you so long as you can perform all the sports activities in this school.' You love to study free. Sports is something that is big and it is not something that will run and stops there. I think I'm getting my point."
Back at school, Mr O'Jara teaches the one hundred and two children in Class Four. He takes a hands-on approach to Maths.
"We are going to use our mangoes there. Are you getting me? To help us work out such a given number. From the mangoes you are having, may you count 10 mangoes and put it aside. Count, 1,2,3,4,5,6,7,8,9,10. Now, may you remove 3 mangoes and put them aside. How many do you remain with now? Count. You remain with what – seven."