I love working with the elephants. They are very calm, polite and intelligent. It is much better to work with elephants than with human beings.
Spending time with the elephants is as good as spending a day in town. Emotionally they are identical to us. In many ways they are better than us.
If humans would live like elephants then you would never hear of these wars and enmities between people or nations. This world would be a very nice place to live in.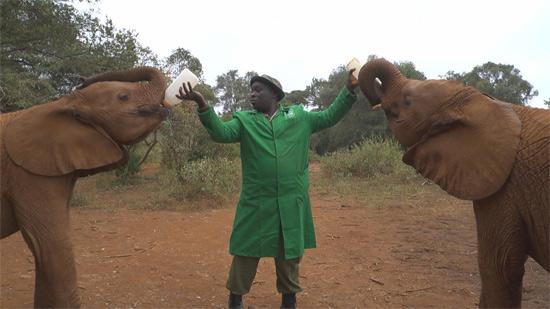 Edwin Lusichi head keeper in Nairobi nursery giving milk to orphan elephants.
In a few years, this magnificent animal we call the elephant will be no more. But there are few men and women in East Africa working tirelessly to ensure that this day is delayed or that it never arrives.
Approximately 100 elephants are killed annually, in Africa as a result of poaching.
Daphne Sheldrick says, "You know, unfortunately elephants have teeth, the ivory tusks and ivory has always been a valuable commodity. It's called White Gold."
Tusks belong to the largest land mammal. There's a lot of mythology attached to that and there has always been a great demand for ivory in places like Japan, China.
This is the problem that we have and it's a demand in China that is driving the poaching.
I am Daphne Sheldrick; my title is Dr. Dane Daphne Sheldrick because the queen knighted me. I was born in Kenya. My father came here in 1907 when he was only 7. We had a farm in Gilgil and I was born into animals.
I met my second husband who was the founder warden of Tsavo National Park. David was in the second world war and after the second world war when Kenya was creating the National Parks he was head hunted for the job of the Tsavo National Park. He died six months later.
Daphne Sheldrick founded the David Sheldrick Wildlife Trust in memory of her late husband and it was the first of its kind anywhere in the world to rear orphaned elephants.