Madiadoa (Stephen Ndegwa), Tour guide, said, "They call me Madoadoa or spotted. They used to say that I drive as fast like the cheetah."
Jacob, tourist, said, "We thought we had seen them all but then you go to the next hill and they are more, and the next hill... and there are more."
Madiadoa said, "A client who comes to Kenya without seeing Mara he never did a safari."
Alex Kantai, Assistant Manager Sekenani Camp, said, "When they come here they are tired, they want to relax, they can't believe this is the place they were going to."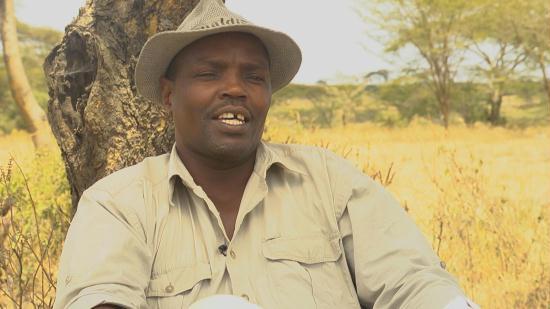 Stephen Ndegwa (madoadoa) a safari tour guide
Madiadoa said, "My best brother. They were really happy and they were sad that they were leaving you see. So it really motivates you in your job."
Madiadoa said, "The love I have for my job. You meet people from all walks of life. I think I have met as many people as possible from all over the world and you get to exchange ideas. Exchanging of ideas gives you a very pleasant way of thinking about your job.
My name is Stephen Ndegwa and my profession is a tour guide. Of which I have been doing that for the last 25 years as a tour driver in various parts, in various countries.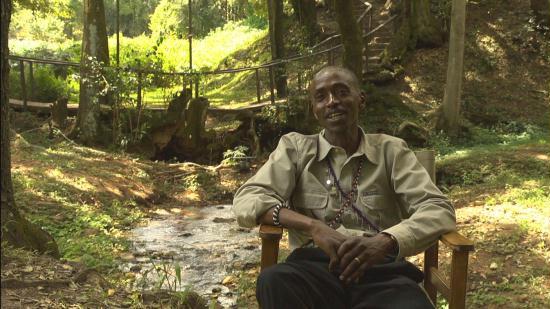 Alex Kantai, Assistant Manager at Sekenani Camp in the Maasai Mara
They call me Madoadoa or spotted. They gave me the name because I was very good at spotting the cheetahs, and also they used to say I drive as fast like the cheetah."
Madoadoa is on his way to pick his clients up from the airport. His mission is to make sure that they have an unforgettable experience once he delivers them to one of Africa's greatest attractions, the Maasai Mara.
Madoadoa said, "I get clients from all walks of life, all over the world. From Israel from Us, from Britain, from Australia and now the biggest group of people coming as we are talking, they are the Chinese. So from Asia we are having a big number of people coming to Kenya.
Most of the clients I am handling now they are the Chinese, yes.
Hello. You are welcome. Am at the airport in the parking. Are you already there? One minute. So you are arriving now? OK Ok. Thank you. "
Alex Kantai, Assistant Manager Sekenani Camp, said, "My name is Alex KantaiKasura and I am the assistant manager here. I start my day very early in the morning like today. This is about eight in the morning.
Hello, Hi, good morning? You had a good sleep. Welcome for your breakfast.
We had some guys who were going for balloon early in the morning as early as 4 in the morning. We had to give them some tea and see them just before they go down to the balloon site where they will fly and later have a champagne breakfast down in the Mara river. We had some guests who were also going for game drive; early morning game drive and we serve them tea and coffee.
Sometimes back we used to have the French coming up, and the Americans. At least now we have seen a lot of change with the Chinese group coming up. We also have Asians who come from Dubai and India. So we are having mix up of everyone coming down here.
I like giving them their breakfast and seeing them off at the car park. Waiting for them when they come back, I find it very exciting and I really like it so much. Just to get to know how was your day and all that."
Indian tourist said, "We are looking forward to have good fun with the kids. They must be really going back with a lot of story lines and experiences to tell their friends and teachers how they felt coming to Kenya. Bye bye."
Alex Kantai said, "Bye, see you later at lunch. I like serving people, that's my best thing I will ever do. I like meeting new people like I always do I meet new people every other day. Every morning I get to know someone else, everyday."