From child prodigy
Boubacar N'Dour said, "He came and sang and blew everybody away."
To international sensation
"Youssou N'Dour. We love you Youssou N'Dour!"
Jimi Mbaye said, "He's been one of the most popular personalities in the world. And he's a planetary star, musical star."
He is the face of activism.
Youssou N'Dour said, "I always had an interest in the humanitarian movement."
And Senegal's political future.
Boubacar N'Dour said, "He is a winner. I know he is going to do whatever it takes to succeed. And I really believe that."
He is Youssou N'Dour.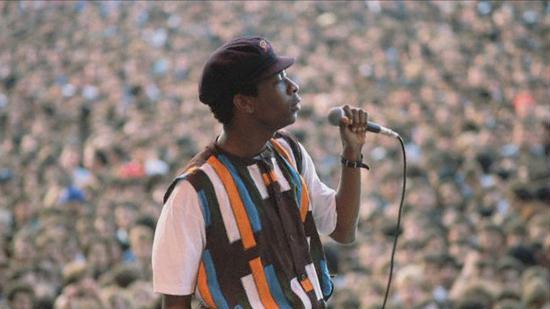 Young Youssou N'Dour, a Senegalese musician performing
Boubacar N'Dour (Youssou's brother), said, "Youssou was famous actually from day 1. That's the special thing about him."
Born in 1959, Youssou N'Dour grew up in the middle class medina district of Dakar, Senegal.
Jimi Mbaye (Super Etoile bassist), said, "It's just an underground part of the capital. Medina is – you couldn't see very rich persons in this, in this area because it was just like the underground, a kind of suburb in the capitol and it's where Youssou grew up."

Boubacar N'Dour said, "Youssou was the eldest in the family. My mum is a house wife. She has never really been like in trouble with Youssou as far as him being a singer is concerned. But my dad was really tough in the beginning. My dad did not want him to be a singer, to sing in a band, so he was hiding and singing in musicals back in the days. And at a very age, he was involved in a play and played a role in as a young singer. He came and sang and yeah blew everybody away and that's how it started. I think he gets it from my mum's side of the family because my mum is a gallo. And gallos are known to be some of the greatest singers in the country.
Mbaye said, "The griots are the story tellers in the – in the African society. I can say they are the xx of the oral tradition. And his mum used to sing. His grandmum also. And I think Youssou get the virus of the singing from his grandma.
Boubacar N'Dour said, "When Youssou was very young he spent a lot of time at my grandmother's house. And my grandmother's house environment was very musical. So had his uncle who actually passed away who was a drummer and he spent a lot of time with them, hanging out. So at a very young age he was around music. So it's definitely, definitely I the blood."
At the age of thirteen Youssou joined Senegal's 'star band', and quickly became a household name.
Boubacar N'Dour said, "I hear a lot of stories, and actually one is pretty funny. He started singing in a band and actually took a trip to The Gambia. And so my dad went looking for him and couldn't find him and actually I think they called like the frontier and the police chased them, made sure they came back to Senegal. On his way back to Dakar he actually managed to sell his shoes and went back to The Gambia to perform. So, that tells you how much he really wanted to be a singer. My dad he doesn't joke so I'm sure he got his punishment for sure. But that did not stop him. Maybe that also made my dad understand that, you know, even though he was really young, he really wanted to do that.