A new school at Jordan's Za'atari refugee camp is giving Syrian children the chance to continue their education. The United Nations estimates there are between 30 and 40,000 Syrian refugees at the camp and about half of them are children.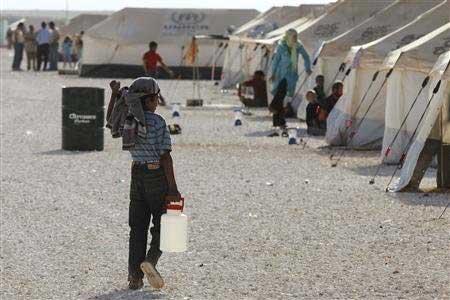 A Syrian refugee boy carries water for his family at the Zaatari refugee camp
in the Jordanian city of Mafraq, near the border with Syria October 22, 2012.
But despite efforts by aid agencies and the Jordanian government to get Syrian children back to school, many are still missing out on an education.
For these children heading to school each morning is the closest they've come to having a normal life in months.
The classrooms - a series of tents in the desert - are far from normal and there is a shortage of school supplies. But the staff say the children are happy to be back in the classroom.
Teacher Yara Nuaine said, "They are very optimistic and lively they have a lot of questions, they want to know when they'll be getting books and when we will give them homework. They are full of enthusiasm."
Within a month of opening the makeshift school already has over 3,000 students. Lack of space means girls have lessons in the morning, and boys in the afternoon.
Reporter: "But the majority of Syrian refugees live outside the camps and many do not have access to education. People in this area say there are over 800 children out of school and many have already missed two years of school."
The Jordanian government has asked schools to accommodate the Syrian pupils but Abdel Azez says every school he approaches says they have no space. He tries to teach his children at home, but he knows it's not enough.
Syrian refugee Abdul Azez said, "I hoped my son would be a doctor one day, my daughters could be lawyers and my twins engineers but if this situation continues the futures of my children will be lost."
Abdul says his dreams of returning to Syria soon are fading just like his dreams for his children's futures.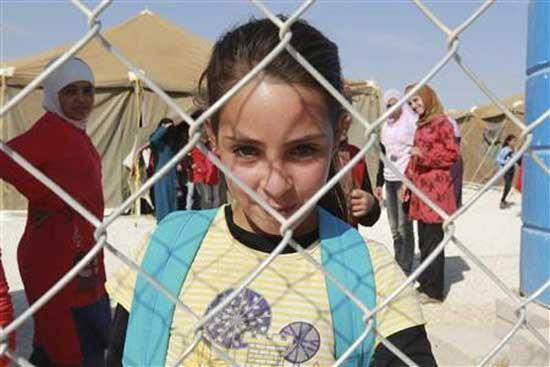 A Syrian refugee girl looks out from behind a fence as she attends school at the Zaatari
refugee camp in the Jordanian city of Mafraq, near the border with Syria October 22, 2012.
Related stories
Editor:James |Source: CCTV.com