Pearl S. Buck (Nobel Prize-winning writer)
Pearl Sydenstricker Buck, most familiarly known as Pearl S. Buck (June 26, 1892 – March 6,1973), was a prolific American writer. The Good Earth based on the life of Chinese village helped her win the Nobel Literature Price in 1938. She was the first woman who won the Nobel Prize for literature. The former president Nixon praised her for "a human bridge connects the cultures of Chinese and Western".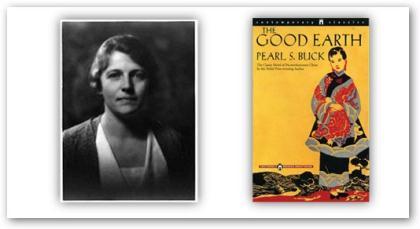 Pearl S. Buck (Nobel Prize-winning writer)
Pearl S. Buck was born in Hillsboro, West Virginia, on June 26, 1892. Her parents were Presbyterian missionaries. Her family was sent to Zhenjiang in 1892 when Pearl was three months old. She was raised in China and learned the Chinese language and customs. She was taught English as a second language by her mother and tutor. She was encouraged to write at an early age. In 1930, Buck produced her first novel of East Wind: West Wine, a study of the conflict between the old and new China. And then she wrote The Good Earth, a profoundly affecting novel of Chinese peasant life. In the following decades she also published many literary outputs, such as Sons, the First Wife and Other Stories, The Mother, A House Divided and so on. Besides writing, Buck also worked to promote racial tolerance and ease the plight of disadvantaged Asians, particularly children. She founded the East and West Association to promote greater understanding among the world's people, and established Welcome Houses, and adoption agencies for Asian-American children.
Editor:James |Source: CNTV