Combined with the traditional techniques, state inheritor of Tibetan paper Qamba Zunzhu has developed more than 40 new varieties of Tibetan paper in a move to boost the workmanship of paper-making.
Skills of Tibetan paper-making have been reviving with the progress of the society. The new variety of paper was made from different materials including leatherette, wood, wall paper, etc.
Originated in the mid-8th century, Tibetan paper has become a symbol of Tibetan culture. Thanks to the dry climate on the Tibetan plateau and its special texture, Tibetan paper is durable, antiseptic and thproof. The arts and crafts made of Tibetan paper are usually in bright colors and can last very long.
Workmanship of Tibetan papermaking has been inscribed into the List of State Intangible Cultural Heritage.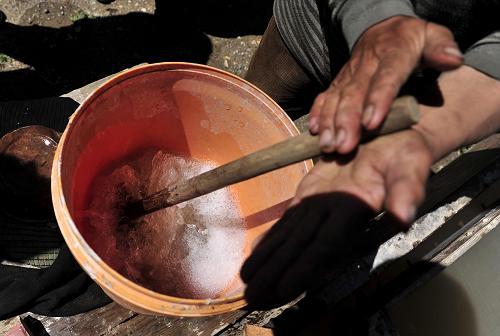 The handicraftman Kelzang Tenzin is making Tibetan paper, June 22. [Photo/Xinhua]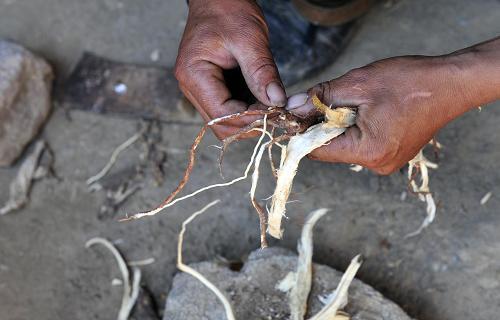 The handicraftman Kelzang Tenzin is showing the raw material of Tibetan paper,
June 22. [Photo/Xinhua]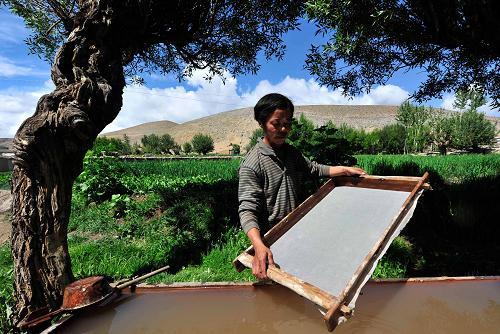 The handicraftman Kelzang Tenzin is making Tibetan paper, June 22. [Photo/Xinhua]
Editor:James |Source: CNTV