When someone mentions Nanjing, you probably think of an old-fashioned city that was the capital city of six ancient dynasties. Many people agree with the saying that Nanjing is a city with a nostalgia complex. A couple of days will allow visitors to experience the city's nostalgic ambience.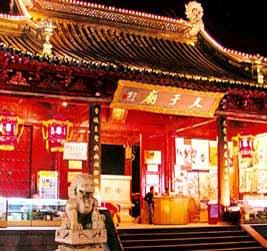 Confucius Temple
One of the most popular places to visit is the Confucius Temple, which was founded during the Song Dynasty in the early 11th century. It was initially an imperial academy but later changed to a center of culture and commerce. Many cities and towns in China have temples named after Confucius, one of China's great thinkers, but the Confucius Temple in Nanjing is particularly special because of its age and history making it an essential place to visit. Teahouses, restaurants, movie theaters, opera theaters, peddler markets and many other kinds of recreational facilities attract and entertain visitors and local residents. There are also many delicious snacks to satisfy your taste buds. Shredded bean curd, crab-meat dumplings and fried quails are a sensual delight to both your sight and taste.
Qinhuai River
Confucius Temple is located on the north bank of the Qinhuai River, which has been the source of many poems and stories. The river is well-known for its picturesque scenery in ancient times with houses and halls on both sides of the river, green windows and red doors reflected in the moonlit rippled water. The sounds of water lapping gently against boats and oars create a kind of gentle music. The scenery is especially magnificent on grand occasions with boats lit by beautiful lanterns winding their way like floating, flaming dragons. Fortunately, the city's charming historical scenes were brought back to life in 1985, when the Nanjing Municipal Government rebuilt the streets in the style of the Ming and Qing dynasties.
Today, next to "Qinhuai Home," a traditional Chinese-style hotel built on the river, you can enjoy a whole lot of things. You are sure to be intoxicated by the area's many sights and sounds. The river is lined with teahouses, restaurants, and stores; crowded with boats, bright lanterns in the evenings, music and laughter. Now it has become the most unique cultural area with distinctive local characteristics that combine commerce, tourism and folklore.