Intro:
It's commonly said that there are three unique items in the garden of Chinese folk art: Porcelain from Jingdezhen, cloisonné from Beijing, and "bodiless lacquerware" from Fuzhou. The use of lacquer goes back 7000 years in China. However, by the early part of last century, the art was in decline. But then, with the founding of New China, lacquer art, and bodiless lacquerware in particular, entered a new golden age, thanks largely to the efforts of a group of outstanding craftsmen. They expanded the uses bodiless lacquerware could be put to. Some of those uses were artistic, and some practical. When China produced its first car in the 1950s, it featured bodiless lacquerware.
Lacquer brings a unique grace, and a sort of mysterious and romantic appeal, to anything it is used to paint. In April 1972, a complex of ancient tombs was unearthed in the city of Changsha. The tombs contained lacquered objects which, despite their great age and to the astonishment of the archaeologists, glistened and shone in the light of their torches.
It took a lot of hard work and skill, but the contemporary artisans of Fuzhou eventually succeeded in recreating the mysterious beauty of lacquerware. Perhaps their greatest success was reproducing the objects found at Mawangdui. Ultimately, traditional lacquerware painting would be acknowledged as a form of art, in its own right.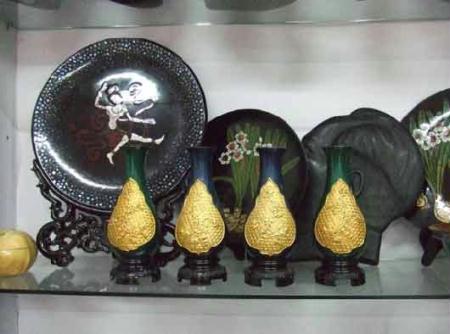 Fuzhou bodiless lacquerware
Outro:
For all of its 7,000 years in China, lacquer has been used as a natural paint – on utensils for daily use, on handicrafts, and on buildings and furniture. Yet, lacquer painting has been regarded as an independent art form in China only since the end of last century. Nowhere is the lacquer art more highly developed than in Fuzhou, where the copies of the Mawangdui lacquered objects were produced. Well, the young artisans who made those copies are old men now. In the intervening years they have used the skills they developed working on those copies, to create a new type of lacquerware. These days, the lines they produce may not be as fluent as they once were. But the same spirit is still evident in their work, and they are inspiring their successors to explore ways of carrying forward this fine tradition.
Related stories
Editor:James |Source: CNTV