The use of lacquer in China for both artisic and practical perposes goes back to 7,000 years. In our program today, we´ll introduce you to a very unusual form of lacquer- the bodiless lacquerware produced in Fuzhou, in South China. We´ll take you back to examine the orgins and development of bodiless lacquerware in China...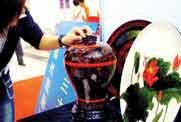 As for a bodiless lacquerware, the techniques for producing it appeared during the six danasties period some 1500 years ago. However, the lacquer gradually forgetton from the Tang Dynasty onwards. But then, a thousand years later, an artist named Shen Shao´an rediscovered it. The delicate pieces of lacquer he produced decorated with gold and silver power...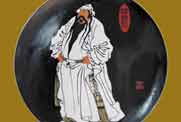 Due to its light, delicate and fading-resistant qualities, Fuzhou bodiless lacquerware, jewelry enamel and Jingdezhen porcelain are listed as the "Three Treasures" of China's traditional handicrafts...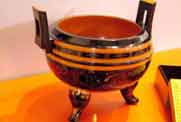 A bodiless lacquer raughcast can hold the weight of human body. It´s the effect of the hemp, tile clay and lacquer working together. The hemp and clay act like human muscles. The hemp is like the skeleton, the clay and lacquer are the muscles, and the lacquered surface is the skin. The decoration patterns painted on them are like clothes.
Lacquer painting has an expressive power that´s unmatched by other forms of painting. An artist reviewed his thoughts and expriences through a remarkably broad range of subjects. In fact, it´s their expressive power that´s the secret to the great popularity of lacquerware painting...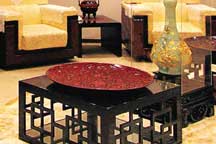 The use of lacquerware in China for both practical and artistic purposes dates back to 7,000 years ago. Contemparary artists have by expanding the areas in which lacquer can be used, succeded in introducing it into our daily lives. In doing so, they have initiated the movement establishing lacquer as an applied art form in its own right.