Brief introduction to Journeys in Time
Beneath the earth and all around us lie the unexplained works of Man from throughout history. JOURNEYS IN TIME investigates the enduring mysteries in our past and in the world around us, in order to push forward our understanding of life as we know it today.
Broadcast on CCTV-NEWS daily, JOURNEYS IN TIME is a 45-minute programme that gets to the heart of its subject in single episodes and multi-part series.
JOURNEYS IN TIME hears from the archaeologists, the anthropologists and the historians who have extended the boundaries of what we know about our own past and our planet's history. Their stories are brought to life through documentary footage, re-enactments and outstanding visual and audio effects.
Much of JOURNEYS IN TIME's programming focuses on China's own history and culture. Anyone with an interest in tracing the course of China's historical and cultural development, will not want to miss JOURNEYS IN TIME.
In JOURNEYS IN TIME, we open your eyes to the unsolved mysteries of history and the world, from the dawn of civilization to the modern era. We focus on the most important landmarks of human civilization, across China and beyond, to unveil the truth about mankind and our world. Tune in every day, only on CCTV NEWS.
Contact info
TEL: (86)-10-63986247
FAX: (86)-10-63989076
EMAIL: journeys_in_time@cctv.com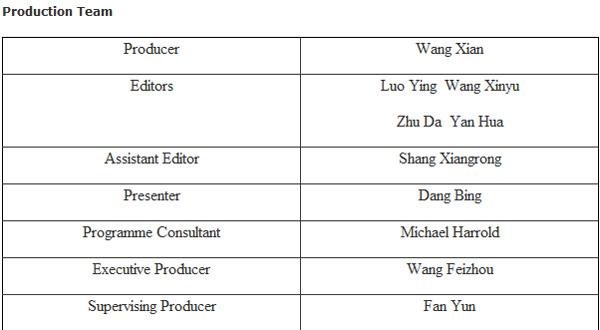 Production Team of Journeys in Time
Editor:James |Source: CNTV