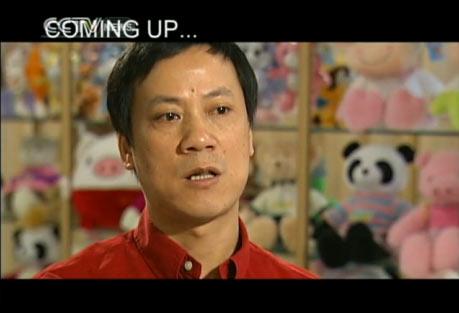 Fang Guangming
The plush toy on the screen appears to be no different from any other toy. But surprisingly, more than 100 million of these toys were sold in just a short time in the U.S.. Why were they so popular? Turning it over, you can find a small card attached at the back of its ear. Scratching the card reveals a password – the key to explaining its popularity.
Buyers of the plush toy get access to an online game with this password. In the game, the buyer adopts a pet that looks just like their new toy. Now they must support their pets by answering quiz questions. Each correct answer gets one point, and accumulated points earn food and clothes for the adopted pet.
Combining traditional toy industry with Internet
Kids must buy another toy pet in order to renew their account and log into the game platform. That has dramatically boosted the toy manufacturing business. The new business model combines the traditional toy industry with the Internet, a revolutionary innovation in modern times. But until Fang Guangming invested in this web game, his career had had nothing to do with online gaming.
In the early 1990s, 25-year-old Fang quit his job in a school-run factory in Haiyan County, Zhejiang Province. With his life savings of 35,000 yuan, Fang started a toy manufacturing business. Just in its second year of operation, it developed into a pillar enterprise that led the county's export trade.