Watch Video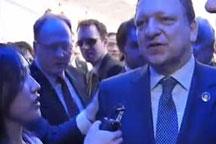 Play Video
The European Union is seeking to deepen ties with China, and gain new momentum in bilateral relations, as the recovery from the global financial crisis moves forward.
Saturday morning saw the EU open its World Expo pavilion to the public. The European Commission President says his bloc attaches great importance to this event in Shanghai.
This is the first time the European Union has built a World Expo hall away from its own territory.
After European Commission President José Manuel Barroso cut the ribbon to officially dedicate the building, he hailed it as an important moment.
The pavilion is based on the theme of "Intelligent Europe" showcasing examples of continental technology and innovation. The exhibition is set to further deepen exchanges between the two sides, while increasing trade and investment.
Every member of the EU is taking part in the festivities. They see the World Expo as a platform to strengthen ties with China. Serbia's Minister of Foreign Affairs says this is a vital need.
Editor:Zhang Pengfei |Source: CCTV.com