Watch Video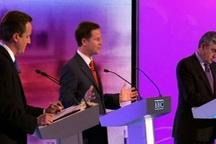 Play Video
Leaders from Britain's 3 major political parties, are in their final days of campaigning ahead of Thursday's parliamentary election.
The latest polls have indicated the opposition Conservatives in the lead, but still shy of a majority. Polls are indicating a likely end to 13 years of Labor rule, despite no party winning an outright majority. Britain could see its first "hung parliament" in nearly 40 years. All three candidates have appeals to voters, drawing on different credentials.
Gordon Brown, British Prime Minister, said, "I've done with people who are just presenting images, I've done with people who are just talking or singing songs but don't mean anything. I've done with the irrelevancies, get to the center point. Let justice roll like water and righteousness like a mighty stream."
David Cameron, Conservative Leader, said, "I know how the Royal Wales particularly have been doing incredible things in Afghanistan and they need to know that they have got a government that is absolutely right behind them."
Nick Clegg, Liberal Democrat Leader, said, "So many people I have spoken to here are saying: for the first time in a generation members of their family are turning to the Liberal Democrats and away from the Labor party because they feel let down by the Labor party and they know that we stand up for ordinary hard-working people."
Related stories
Editor:Du Xiaodan |Source: CCTV.com