Watch Video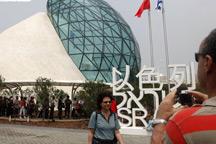 Play Video
Today is Israel pavilion day at the Shanghai World Expo. A chance for the country to highlight innovation along with putting a spotlight on ancient Jewish culture. The ceremony to mark the occasion was held about 2 hours ago. Israel's finance minister Yuvaf Steinitz and China's deputy general representative to the Expo, Shu Zhan attended the ceremony.
Well-known Israeli singer David D'or and the country's long-celebrated Hora Jerusalem performed at the ceremony. Shanghai's Philharmonic orchestra also performed. The Israel pavilion was designed by Haim Dotan. The outline of the pavilion is like a shell. The pavilion consists of three areas: Whispering Garden, Hall of Light and Hall of Innovations.
The Whispering Garden is a green orchard where trees "whisper" in both English and Chinese. The Hall of Light includes a 15-meter high screen. It displays films highlighting the country's technological achievements. The Hall of Innovations is the centerpiece of the Israel Pavilion. The theme of Israeli pavilion is "Innovation for Better Life" echoing the theme of World Expo "Better City, Better Life".
Israeli national pavilion welcomes its day.