Watch Video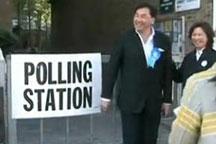 Play Video
The UK election has produced the first hung parliament since 1974. And there is another "first," 8 candidates of Chinese descent.
"Tomorrow", was the only English word George Lee knew when he came to UK at 10 years old.
38 years later he would become the first Chinese origin parliamentary candidate to campaign for The Conservative Party in Holborn and St Pancras, London. And for George Lee, the "first" means he had to start from zero.
Knocking on every door in his area, and introducing himself to every family behind it was the daily routine for fourteen months for George and his wife Sally.
Support also comes from the Chinese communities across Britain, both in funds and volunteers. Although Holborn is a traditional Labour stronghold, George and his team are determined.
He wakes up at 4 am on election day and tries to give a last speech at each of the 13 polling stations.
As the campaign comes to an end, George says he wants to get back to his normal life. But he also admits politics has become a part of his life.
Related stories
Editor:Zhang Pengfei |Source: CCTV.com