Watch Video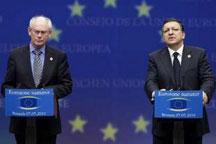 Play Video
Euro zone leaders have approved emergency loans for Greece, as fears rise that Athens' debt crisis could spread to other European economies.
The leaders of the 16-countries using the euro, have given their political stamp of approval to an EU-IMF deal.
Over three years, Greece will receive 110 billion euros, or 147 billion US dollars. But EU sources say the leaders are divided on how to prevent the contagion from spreading to other heavily indebted countries.
Herman van Rompuy, European Council President, said, "All heads of state and of governments of the euro area are fully aware that we face a serious situation in the euro-zone. It is about responsibility and it is about solidarity. We will face this situation together."